Today was one of the longest 24 hours I've lived, yet everything went by so fast! nevertheless, I love how being awake helps make the day seem longer and more full of time to fit more activities in the day. You might think I'm not tired- for some reason, I'm actually not. Even with our long plane ride to Houston, everything ran real smooth. After picking up our luggage at the airport, the cohort began on our first adventure.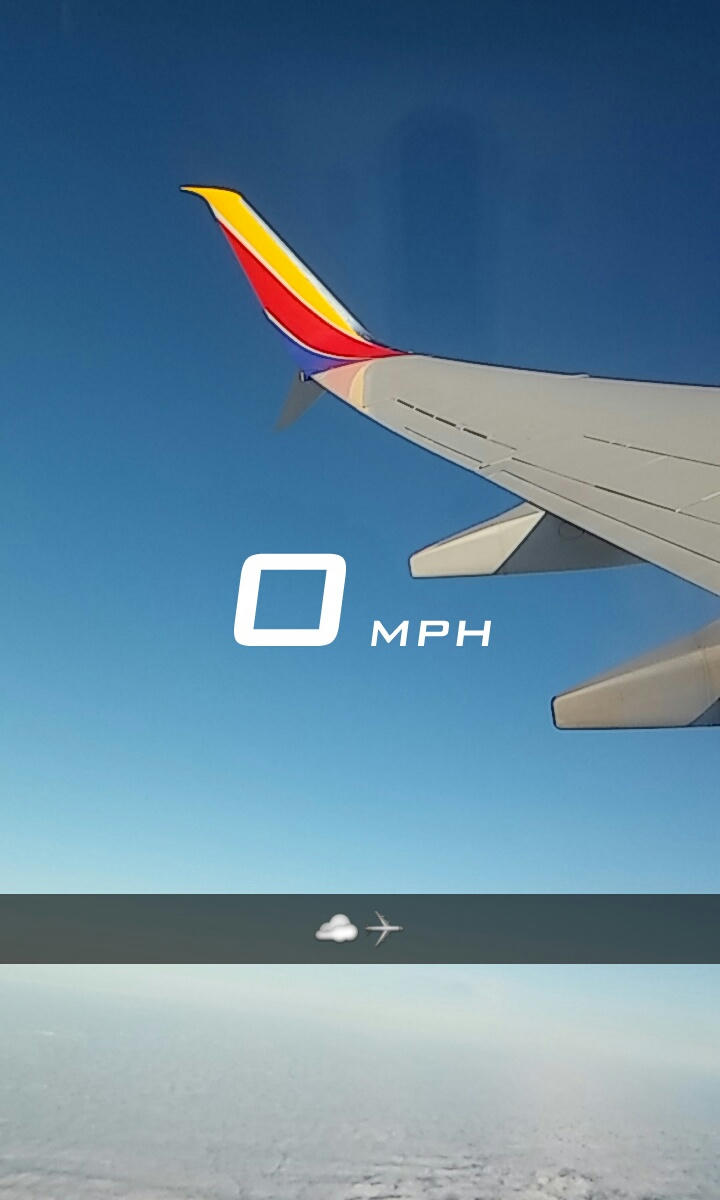 Maybe we were just going down...?
Immediately after stepping foot outside of the airport, the rush of humidity hit us as we made our way to our shuttle. A man with a warm smile greeted us and cared to pack our luggage and then drove us to our hotel.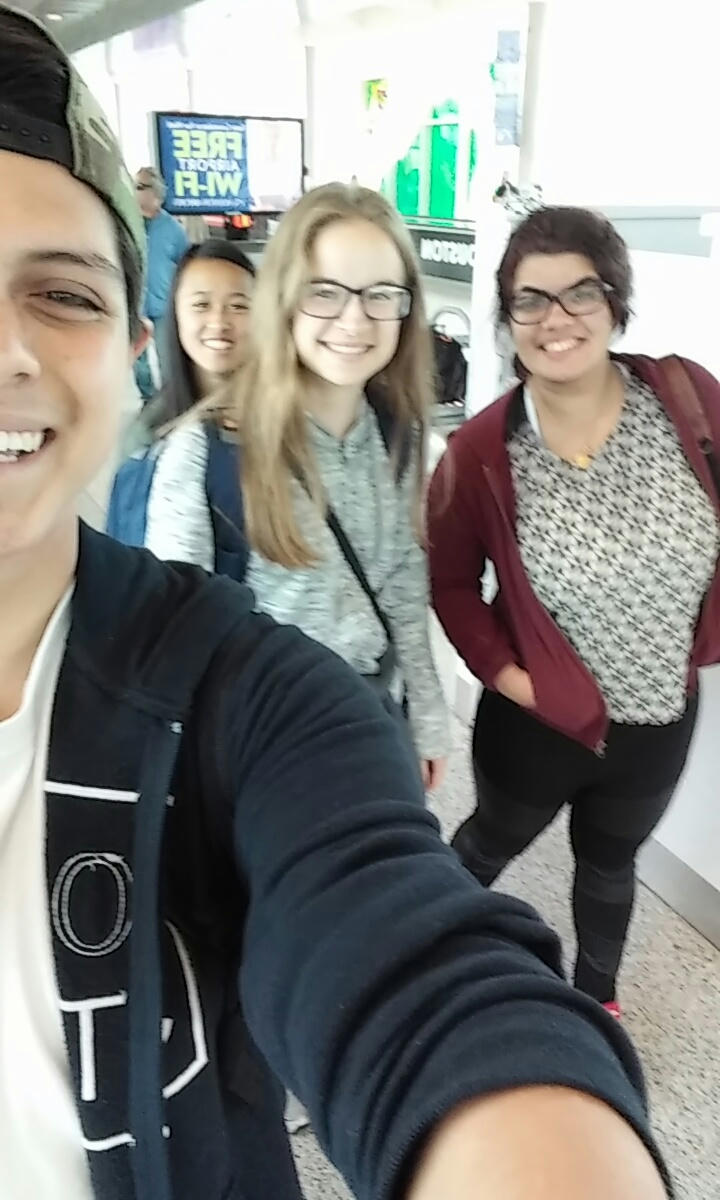 Airport selfie!
He was very warm and open. On the way to the hotel he told us how he is from Monroe, Louisiana but how he was raised outside of the town. He mentioned how 3 miles here for a native Texan is like a block (whoa). He also mentioned that there's a lot of eating that goes on here in Houston. Though he said not to ask a thinner folk here for food suggestions, a thin man that he was, our chauffeur did, however, mentioned the barbecues and the soul food he was raised on. One talk led to another and eventually, he and Jenny somehow got to California's and Texas' economy.
We then arrived to our hotel. Or did we? We realized at the reception that we were actually not in the right hotel, telling us how it was funny that the very same thing happened sometime this month. Who knows, maybe our chauffeur wanted to give us a different kind of welcome to Houston. It wasn't an issue, though. We all got our luggage and strode around the block and across the street to get to the Marriott Medical Center.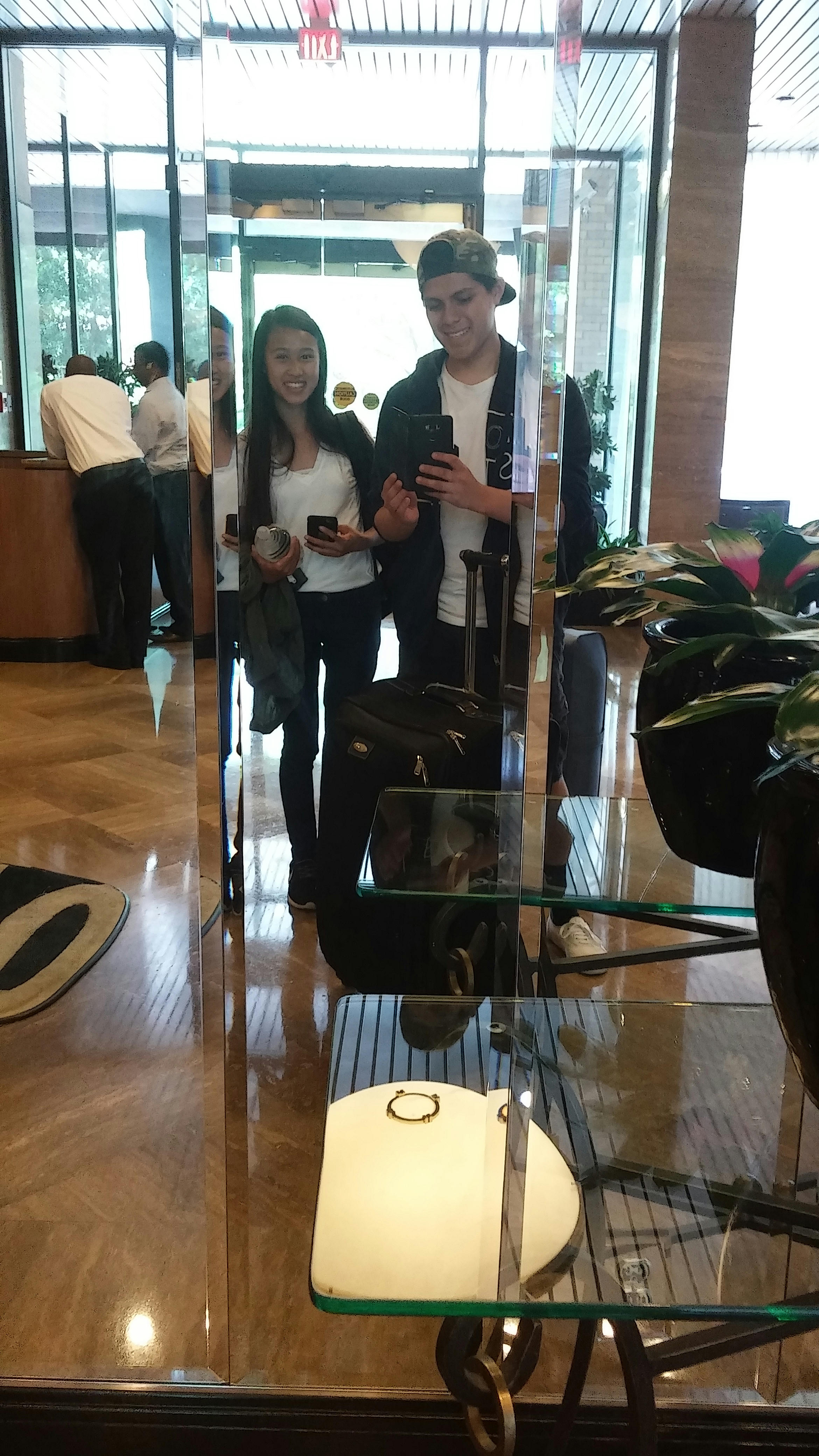 Quick selfie... at the wrong hotel, but that's fine!
On our way to the restaurant, we experienced what our chauffeur was saying as he dropped us off- that in Texas, there's no mercy for those crossing the street. Just at every corner, we found cars making their way while we'd be halfway crossing the street, hence the name of the title (haha!). The restaurant we got to was Local Foods and, though it wasn't initially a favorite, we quickly decided to give it a try. It was one of our best choices of the day and for lunch! Upon arrival, thanks to a shuttle ride, we opened to doors to the different vibe of the restaurant. Our table, the coolest one, was a table like those cooking kitchen table ones you see on TV and the seats were somewhat like a sofa. There were parts of the wall that were and old-fashioned and made of faded, red, bricks. I personally ordered the Bahn Mi with the Chicken Orzo soup on the side and let me say they were great. This was my first time trying a Banh Mi and it was definitely a great way to begin the food trying aspect of the trip! Also, thanks to our close cohort, we decided we'd share some of our food and as a group we got the chance to try some of the Housemade Potato Chips, Vegan Taco Salad, Coleslaw, and awesome Butterscotch Bread.
Despite being pretty full, some of us even taking to take to-go boxes, we ultimately decided that we'd head back 1 mile to our hotel by foot. As soon as we slipped out the doors, and the heat humidity bombarded us, we strolled our way along University Boulevard, passing by fields of green grass, bright red flowers, tall, overarching, shading, trees, and occasional joggers. The ambient along the street helped set the tone for a peaceful walk as we made our way to rest, nap, and/or begin our blog at the hotel.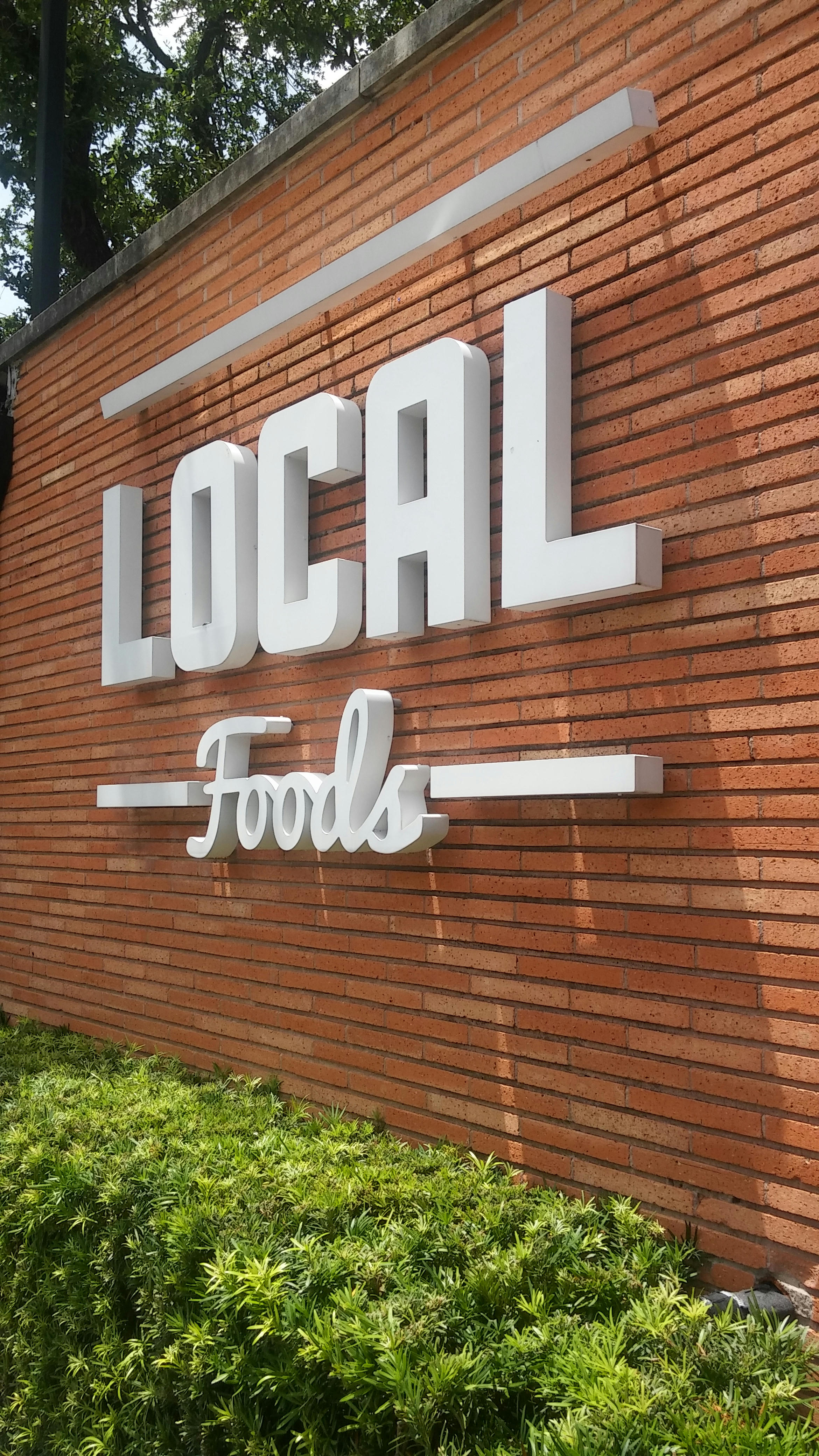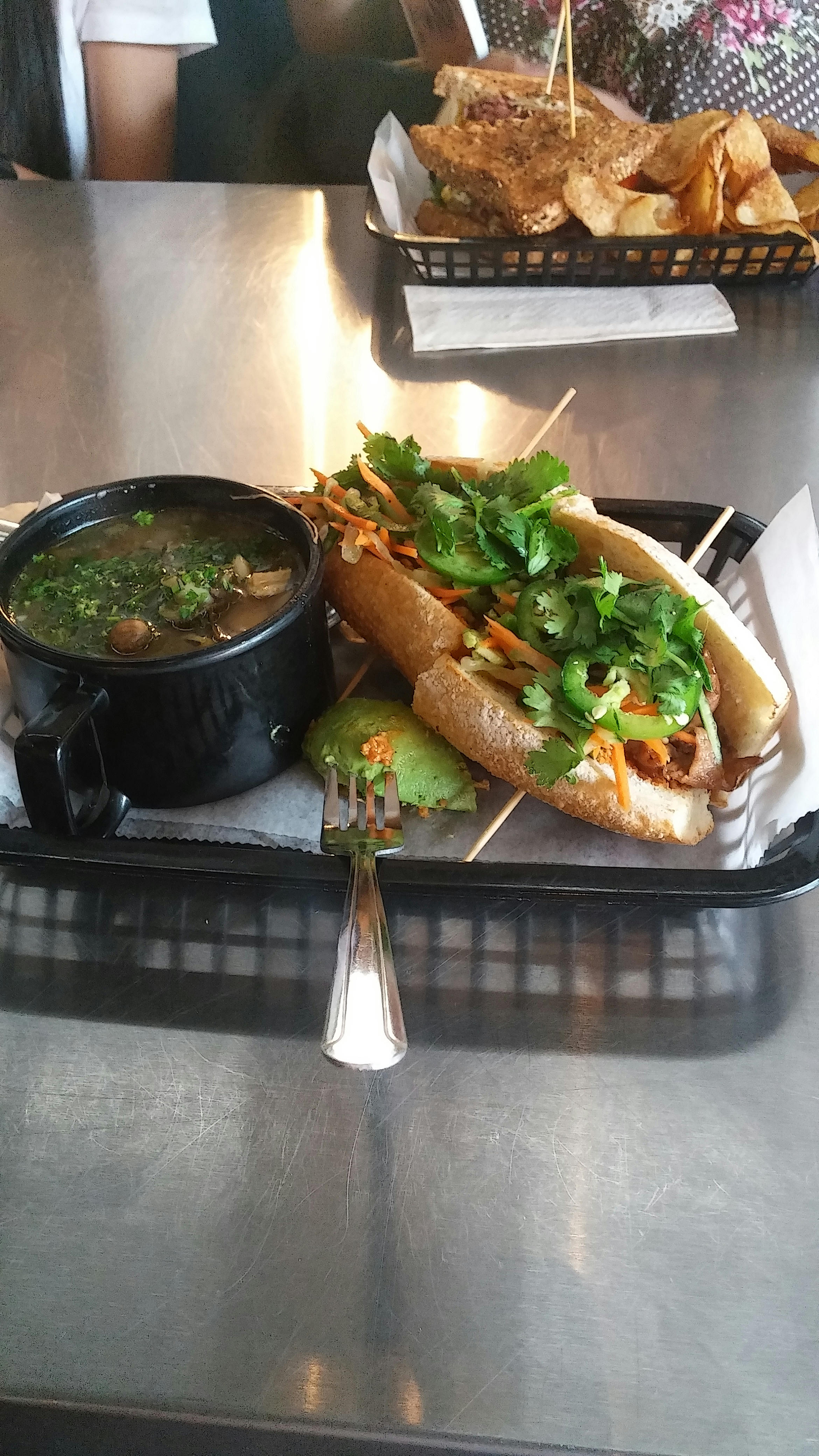 This Banh Mi was BOMB!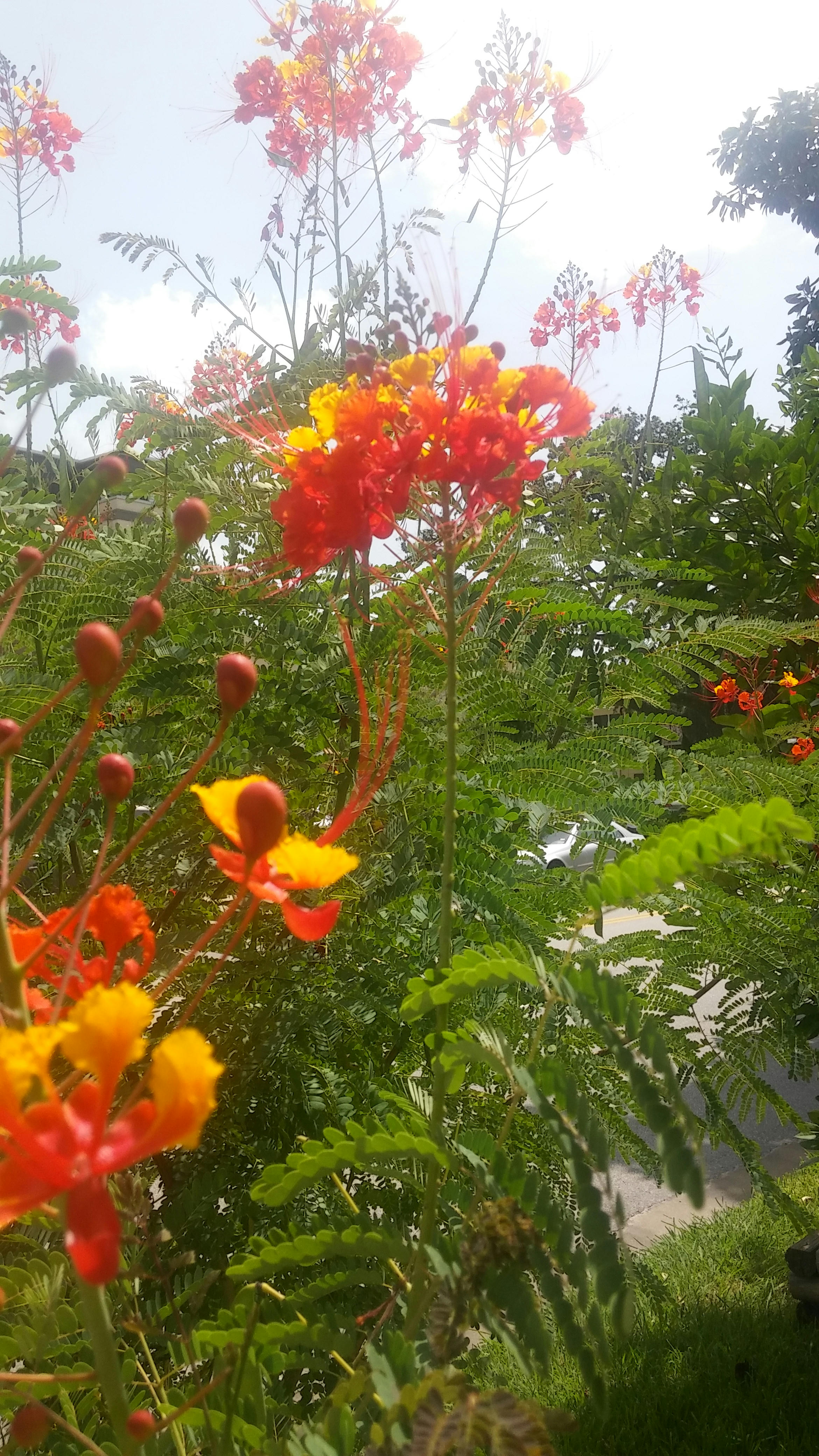 Some beauties on our peaceful stroll back
After a satisfying lunch and a laid-back blog "party" with the girls, we met Jenny at the lobby and shuttled to Rice Village once again where we explored the streets and shops of it, like the Chocolate Bar and a great crepe restaurant, Sweet Paris, where we ate. When I saw Katherine and Hummd's enchilada dish in a crepe, I have to say I felt ambivalent about what my dish would be like, but once I sliced some for Jenny and actually tried it, amazed at how it tasted. To top it, we had some Iced Mayan Chocolate. Everything was tasty and as we finished, we made it to the Chocolate Bar to finally get some ice cream dessert.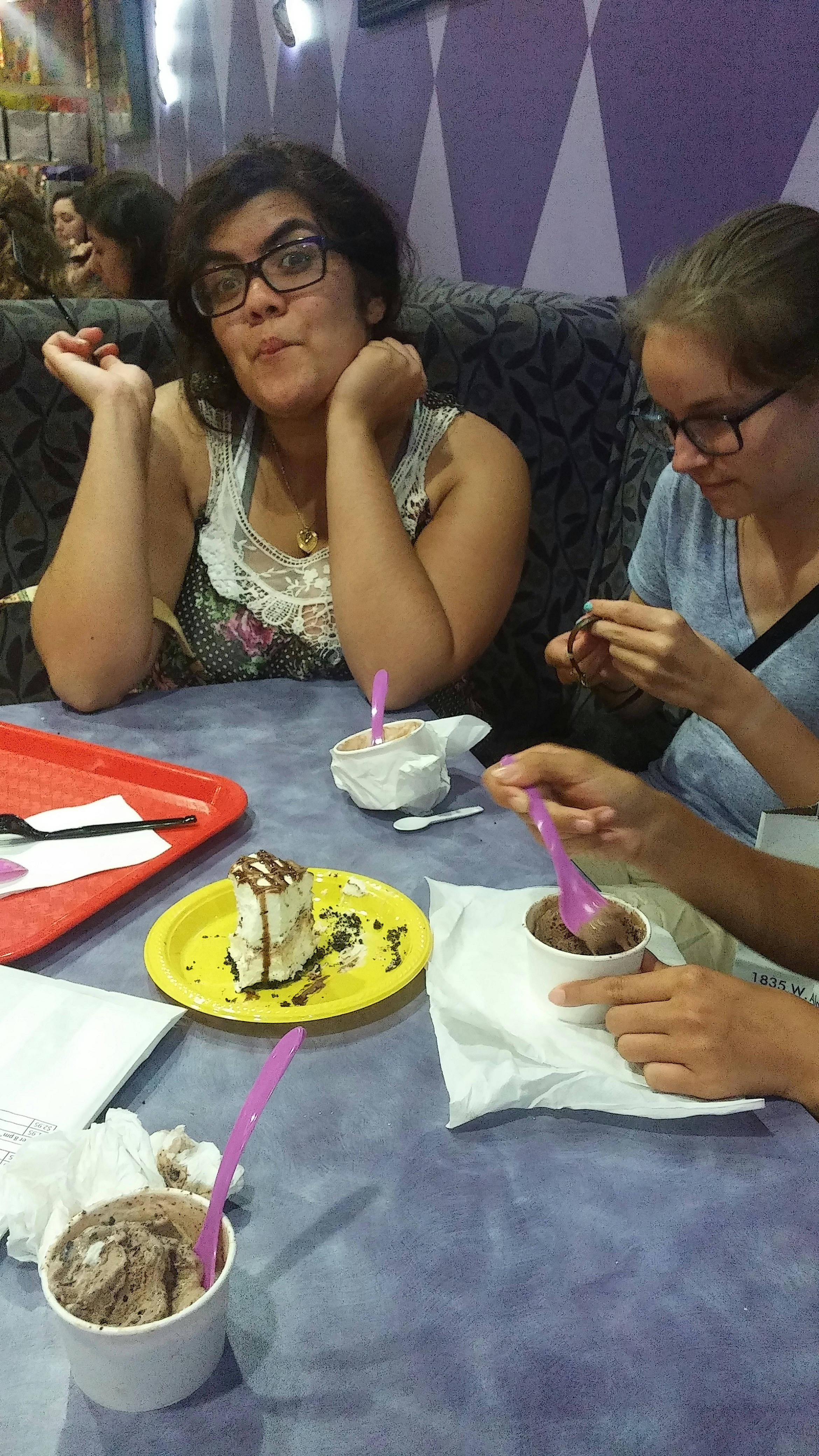 Hummd's face explains everything
about that scrumptious cheesecake we had
To end the night, our cohort made it to the hotel where we hung out at the hotel's indoor swimming pool. I can't describe how we were able to do so much today. We've been on the road and back and forth these past 24 hours doing so much, yet in such a chill and paced way. To some extent, it just simply feels like our cohort is on a very long get together for the day. For some reason, it even feels like this trip is over! Why? I don't know! Maybe today was a really long day! In that case, even better. That means we have plenty more time for more memories. More sweet, memorable, fond memories to cherish. Tomorrow's another long, great, new day, full of other new opportunities, activities, and bonding moments to create. I'm so thankful for such a great start! Very grateful.