Today marks the halfway point of everyone's time as part of the VSA program. In tonight's proctor group, it has been made evident that it is bittersweet. On one hand, we miss family, home cooked meals, private showers, and such. On the other hand, bonds have been made here. I feel like today I made a shift between my more introverted self and into what I hope will be a better person here. I can be quite introverted, as it takes me a while and it requires some level of comfort with people for me to open up. As a result, I am glad that I feel like I am shifting from being more introverted to being more open to being around my peers here.
To begin, my morning consisted of some breakfast. I had some oatmeal, of course with tons of berries, and a couple other sides. Day by day, I am accustoming myself to the food, making it both harder to recall what it is I had and making me miss some home cooked meals. Breakfast proceeded with class. Today, we had some of everything: we read articles and our wheelchair manuals, taking some notes, watching some videos, and actually working with wheelchairs. Continuing from yesterday, we further examined social stigma around disabilities. In particular, we had the 3 Major Phases in a rite of passage: Isolation, Ritual Reemergence, and Reincorporation into Society. For example, in a marriage, the couple does not see each other prior to the ceremony, then actually see each other and marry, and finally are introduced into society as one. Furthermore, in class we also got a glimpse of a guest speaker for tomorrow, Sal Gonzalez. I'll give him the spotlight tomorrow, but I can say that he works for a great cause, has a history of experiencing stigma, and has a talent to offer. We also watched two documentaries: Breathing Lessons and Murderball. One followed the life of a man with Polio and has persevered through life, earning his Bachelor's from UC Berkeley, pursuing his masters, all while living off of an iron lung. The second was about wheelchair Rugby, following the stories of different men living on wheelchairs, but sharing a passion of continuing living a passionate life (so passionate, they play in the Paralympics).
Mission time
With a lunch break in between, I decided to have some of the Commons' Asian food, which is quite tasty and had a quick break before the best part of class today.
Today marked the day that our class began on the wheelchair social experiment. Hummd, my partner, was up first today. The class was given time to practice, but eventually transitioned on to a mission we all had in common. One by one, we all had to go find a book in the Peabody Library. Again, this was in individual pairs (Hummd, using the wheelchair, and I, being her "spotter"), so it was interesting to see how things turned out. I looked up directions and promptly found out how to get there. It was't too far, maybe a 5 minute walk at most, however, there was more than meets the eye. As Hummd and I sought out how to get there, we faced some issues. For one, Google Maps' directions were sightly misleading. Two, the recent showers of rain made the terrain trickier to work on. Three, handicap-friendly paths were unavailable. As a result, and as a spotter, I saw how paths for those who are handicapped are not always available.
Even in the library, the elevator was not in use, meaning that there was no way to get to the book via a handicap-accessible way. Also as a spotter, I saw the two different reactions people had as we passed by them. On one hand, some people from the Preview Day crowds were quite warm and expressed a smile, whereas others completely avoided looking toward Hummd and me. I pondering whether that is because they simply did not have an interest (and therefore, did not identify Hummd and I as "different"), or because they did not know a "proper" or "right" way to pass by us. Whichever the reason, it set the tone for what the next 24 hours will be like alongside Hummd as her spotter. It also gave me a glimpse as to how difficult it will be for me tomorrow when I will be the one in the wheelchair. In addition, it also gave me a glimpse as to how arduous of a job it quickly becomes having to roll yourself in the chair.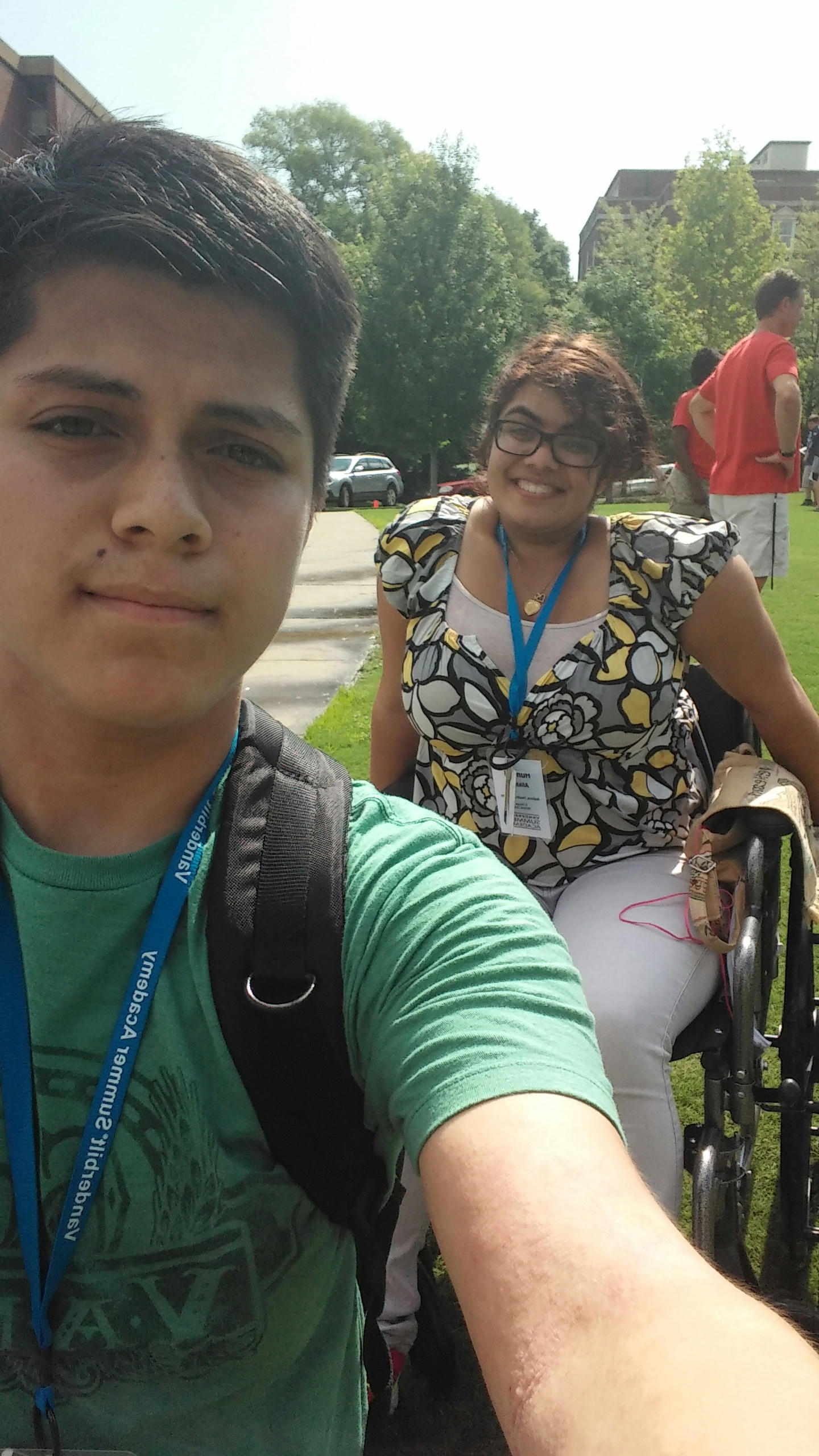 Hanging out in the hot sun... because we
can't get to the ramp... #disabilitystruggle
It's nice to take a moment to enjoy the
beauty of the campus and sky every now and then.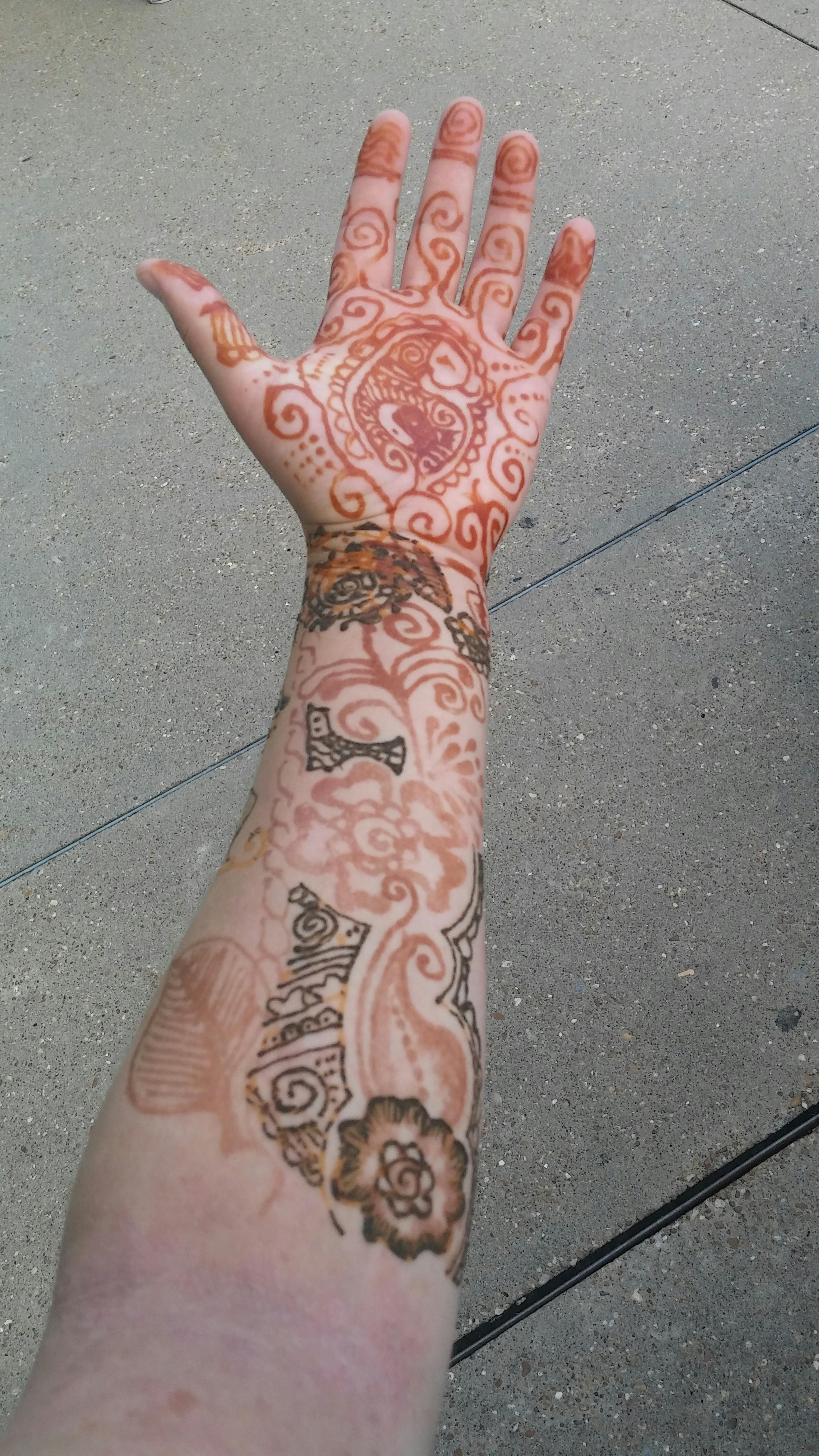 No worries, fam. It's just Henna.
With another good time at dinner with our group, time passed quickly and it was soon time for arete. Henna part three. Yes, part three. I went over some older markings and added a whole bunch of the Arabic-Indian designs we learned how to do today. I also had a friend, Katie, do some sort of nice looking designs she made on my arm. Though incomplete, it's nice to have something. I'm actually enjoying this Henna quite a lot, if you can't tell. I'm taking advantage of this temporary thing, because my family would freak out if I ever came home after so long all tatted up (hahahaha- to my family reading this, don't worry, I'll be fine, haha). Some time after, I got back up to my floor and saw a fellow proctor, Victoria, Alijah, George (from my former Improv class), and a few other fellows whose names I didn't get. We all played some ERS (I believe), so it was nice trying out a card game.
Following that, tonight was pretty chill. We discussed how we were at our halfway point today during our proctor meeting and it was nice getting to see everyone's perspective on it. To reiterate, it makes me miss home a bit, but it is also a slap in the face telling me, "This is the last time you will every get to do something like this in high school." As a result, it makes me want to see what else there is to do here and makes me want to meet some more familiar faces and just further immerse myself into VSA. With that said, I did get to bond some more with my proctor, Tonny. He's a really cool guy. I think I could actually go on and end up making a paragraph on him, but in few words, he's great- and I am grateful and fortunate to have had the fortune itself to have someone like him at VSA to interact with. Hanging out with him while blogging is how I ended up tonight... and just a couple minutes after Light's Out. For now, time to sleep. My turn in that wheelchair tomorrow...!!!!