Katherine is a morning person. Her alarm blared through our hotel room at 8 AM, so that we could be ready to check out of the hotel at 9. As soon as I woke up, I was reminded that the AP test scores were available. I quickly checked it, and felt very pleasantly surprised by my scores. After that, Gwennie, Katherine and I got ready and double-checked the room to make sure that we were not leaving anything behind.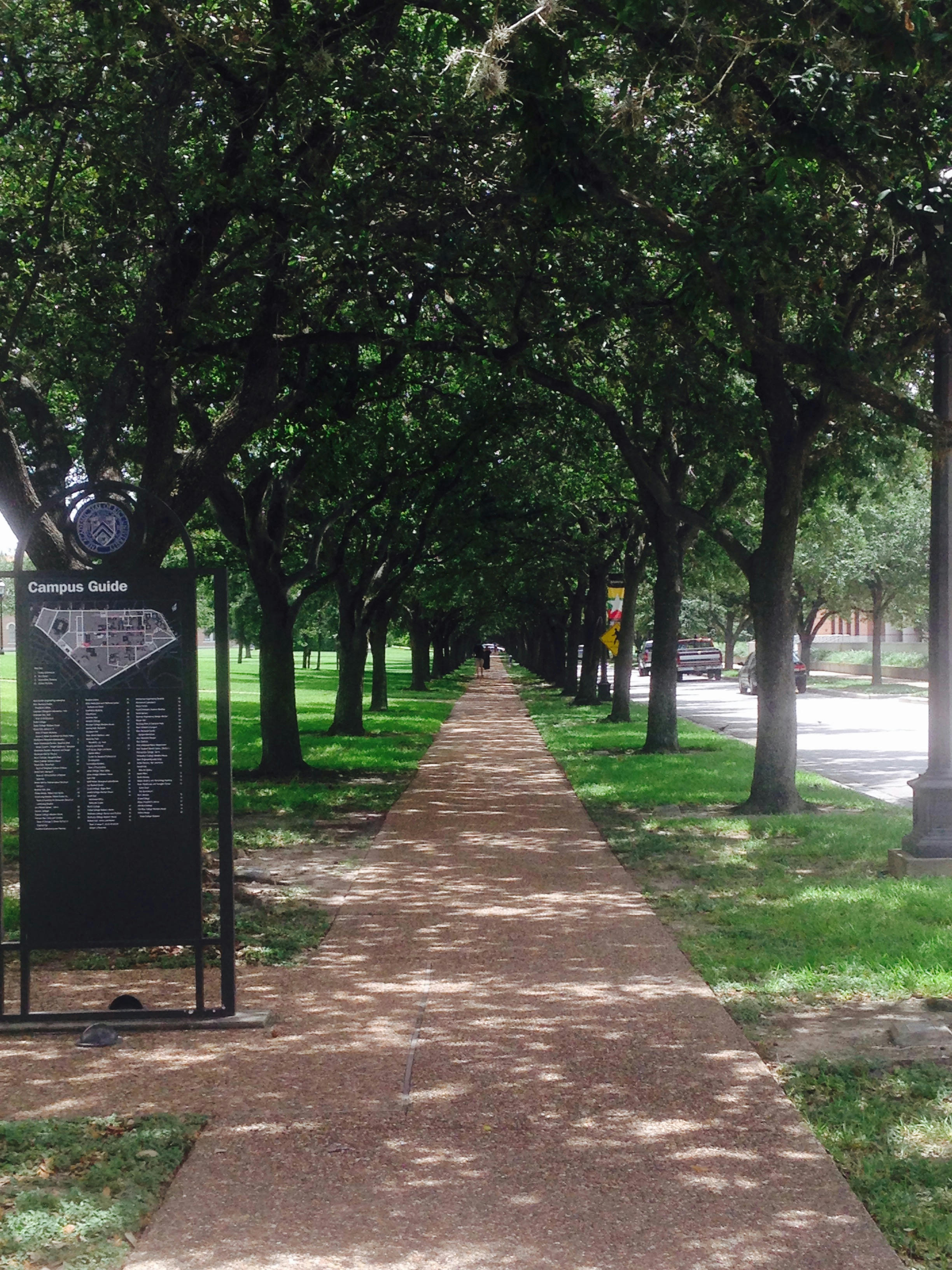 A wonderful place for a stroll.
The shuttle took us to the Houston Medical Center, where we grabbed a quick breakfast at Au Bon Pain to eat during the information session at Rice. I learned a lot during the information session. An assistant admissions officer, Jessica Hardy was the person to give us the presentation. William Marsh Rice was the founder of the school, and decided to leave a donation after his death to pay for the school, as well as donating part of his estate. He had an untimely death, as he was murdered by his butler, so that his lawyer would receive all of the money instead. (There was even a fake will involved!) But since the plot was uncovered, Rice University was founded, The first president traveled all around the country and the world to find the best aspects of each institution to bring it to Rice to make it an amazing institution. I was really impressed by the fact that the first classes held when the school was founded had 26 women. In 1912, that was unprecedented.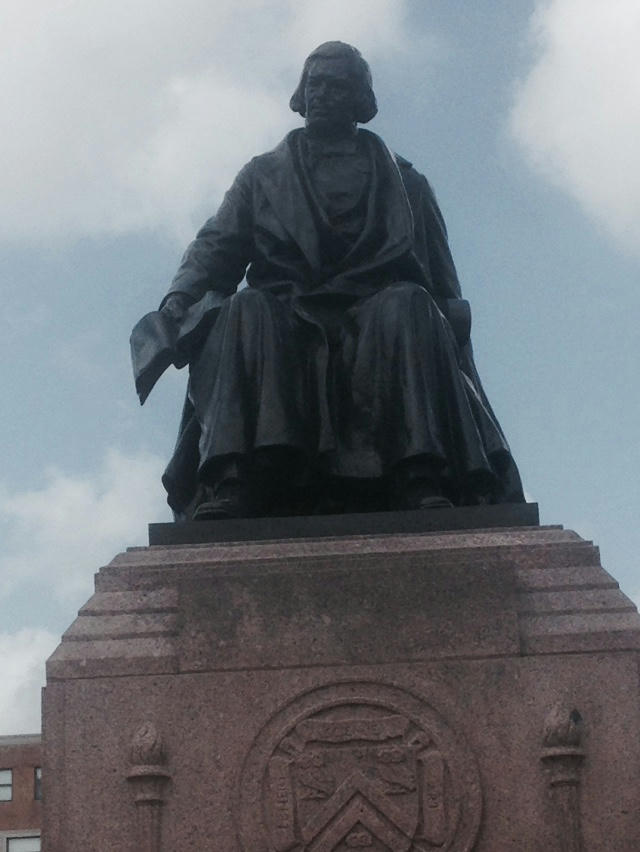 William Marsh Rice himself!
Class size is a really big factor in the schools I want to apply to, and the classes are rarely over 40 people. Only 85 percent of classes are taught by professors, five percent by graduate students, and the other 10 percent were by visiting professors and students that demonstrate an interest in teaching a class that is not already offered on campus. Another thing that really excited me was that the engineering program works really closely with NASA. (I have no intention of becoming an engineer, but I just think that's so cool!)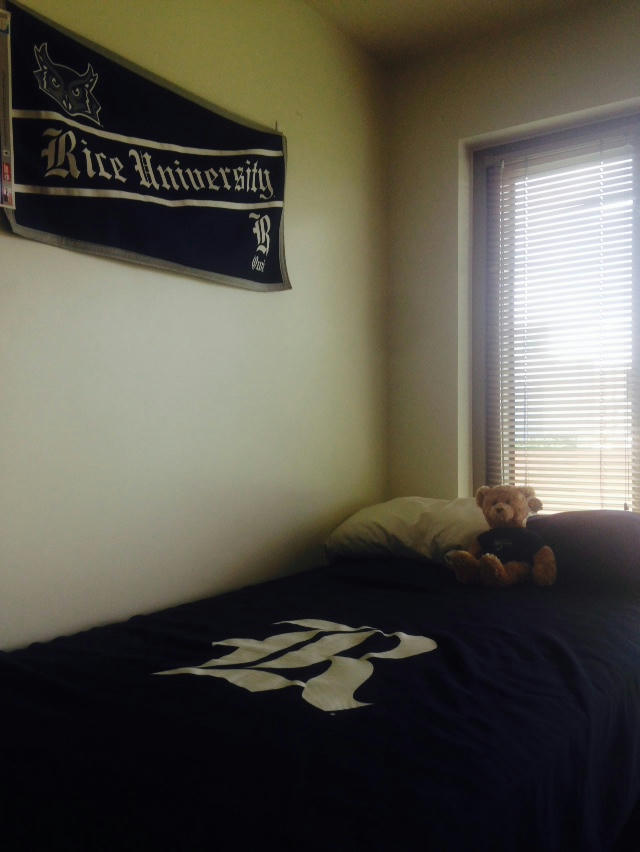 A typical Rice dorm room
They also put a lot of focus on their service learning opportunities, and one of them was "Alternative Spring Break" I heard a lot of alumni at the Vanderbilt dinner a few months ago mention how great that was, so I am glad that Rice also has it. Eighty percent of the students at Rice are involved with community service, and I think that is amazing! Community service is really close to my heart (which is why I like Interact so much) and that is a major draw for me. Another major draw was the mention of the maximum student loans owed would be 10,000 dollars over four years.
We heard a lot of the same information during our tour, so I won't repeat it. However, we got a lot of more in depth information about the residential colleges from our tour guide, Will. Apparently, each is a microcosm of the university, and the sense of community is really strong within each residential college. I appreciated many features of Rice, but I do not think that it is the school for me.
The tour was over all too soon. After we came back to our starting point, we braved the heat to go to a smoothie bar, and waited for the shuttle to take us to the hotel so that we could pick our luggage up and make our way to the airport.
As we boarded, I resolved to write part of my blog. However, according to Gwennie, I fell asleep before we even took off. I woke up to the announcement that we would be landing soon, and the breakdown of the weather. I was still half asleep, so when the pilot announced that it 136 degrees Fahrenheit outside my mind immediately cleared. Then he went on to say that it was actually only 92 degrees. Our arrival to the airport and drive to the hotel were both fairly uneventful, aside from finding out that the room that Kathrine, Gwennie and I would be sharing only had one bed. We quickly remedied that by having the staff bring us a roll-in bed. After that, we went to the restaurant in the lobby and grabbed a few entrees to take up to our hotel room and share as we settled in to reflect about our day.