I'd have to say that today was one of the more laid-back days of the summer- and I mean that in a good way. This morning began as usual with some breakfast and small talk with with group. Then came class. Today we went over something new, being Pharmaceuticalization. Try saying that 10 times. We started off with some articles but also saw a film today. Like many of the films we have been seeing in class, it was for the most part saddening, but also quite revealing about the Pharmaceutical industry. I think I have mentioned it before, but I had done a research paper in the past touching on pharmaceuticals, alternative medicine, and politics. This, however, helped broaden my perspective on them. It focused more on how the process for prescription drugs to be made available here in the U.S. is much more lenient than in other countries like Europe. In any case, we are going to be learning more about it this final week. After the film, we had a short break, immediately followed by lunch.
When we got back, Monte had unfortunately left due to feeling ill today. To continue with today's theme, we began to research on the drug we randomly chose and were subsequently assigned to. I got Yaz, which is an oral form of birth control. For the next couple of hours, I researched Yaz, from its uses, to its prevalence, side effects, uses, and a total of about 4 pages I was given to fill about it. During the course of the period, towards the end in particular, we also were able to practice the "Monte," song (a remake of "Baby"), which we are going to perform for her the last day of class. Eventually, it was lunch time and we went back to the Commons, then has free time. During free time, I spent some more time hanging out with the guys. Literally, I just hanged out- no blogging, just relaxing. Like most of today, it just zoomed by quickly. By the time I knew it, it was 5:55 PM and the cohort and I met down in the lobby to go explore Nashville some more.
It's Elvis, dude.
Once we met with Jenny, we shuttled over to downtown Nashville. There, one of the first things we saw was a life size version of Elvis, so of course we had to get our pictures with him. We also passed by a couple shops that we found interesting. Among them was this cool boot store that had this wide variety of boots for men and women, from traditional boots, to Mexican style boots (I know because my dad own only boots), and others in between. Unfortunately, I think if anyone wanted boots, they'd have to wait to get back to California because boots here ranged from about $300-500. Along the way we also just passed by several restaurants (the only place with live music we were allowed in) and joined to hear a couple tunes with the folks. We cruised over the main street, leading us up to Puckett's Grocery, our restaurant for the night. It is recognized for home-cooked style meals, so I decided I would try the Piggy Mac, which was pulled pork with mac n cheese. While waiting and eating, we were able to enjoy some of the live music. Today's guest at the time we were there were Lacy Green (whose music is kind of out there) and two of her friends, one from New York and the other from North Carolina. All three of them took turns playing their own original songs and I have to say that all three of them sang beautifully. I've probably heard more beautiful live voices in this past week than I have this whole year. It's been a pleasure. Afterwards, we went over to get some ice cream. I decided I'd get the vanilla on a homemade waffle cone. Unfortunately, those were two huge scoops and it happened to break. Fortunately, I caught it with my hands on time and was able to get a cup for it. We shuttled back and got to Hank.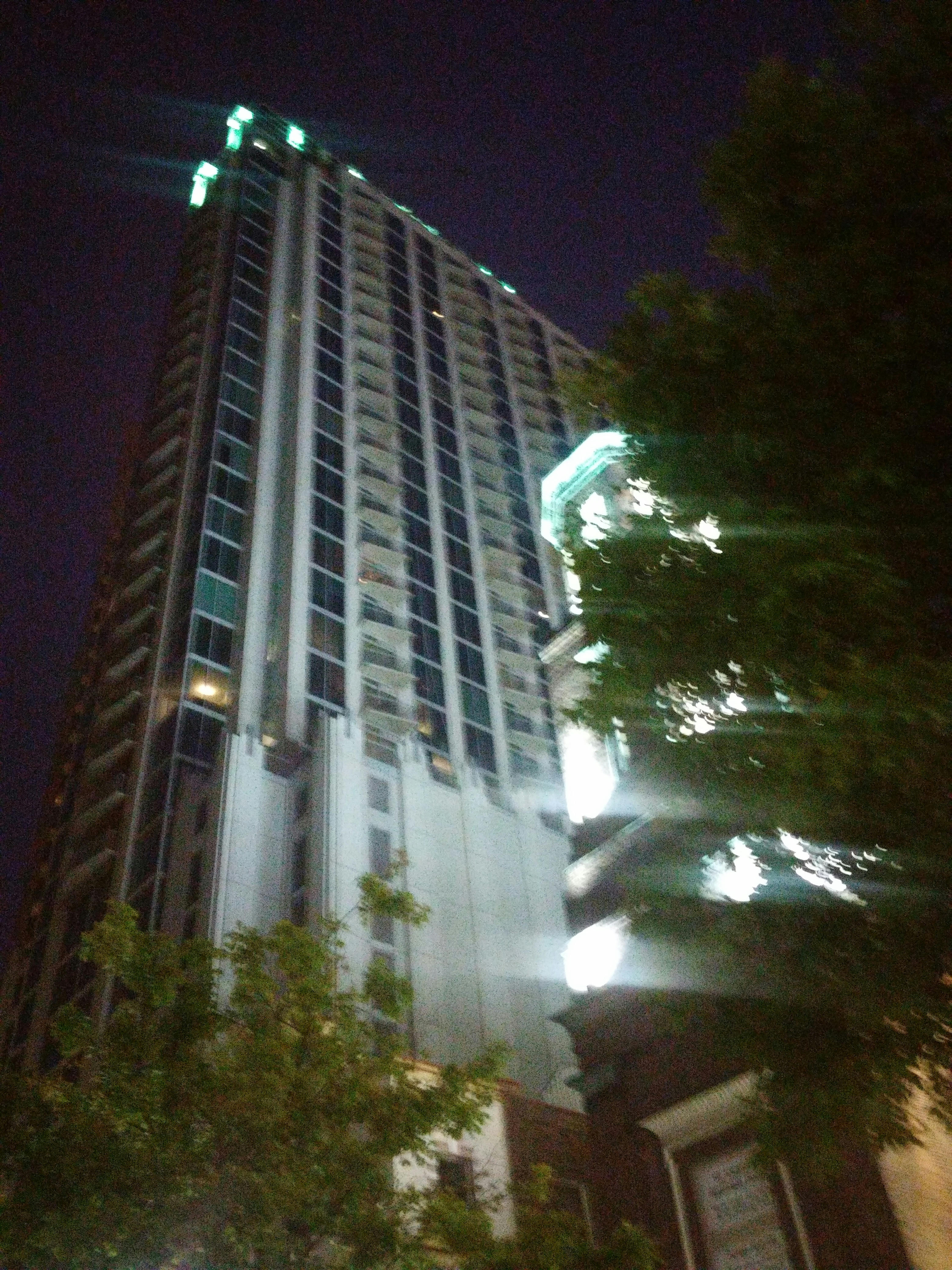 One of the most mind-blowing things to do is looking up at tall buildings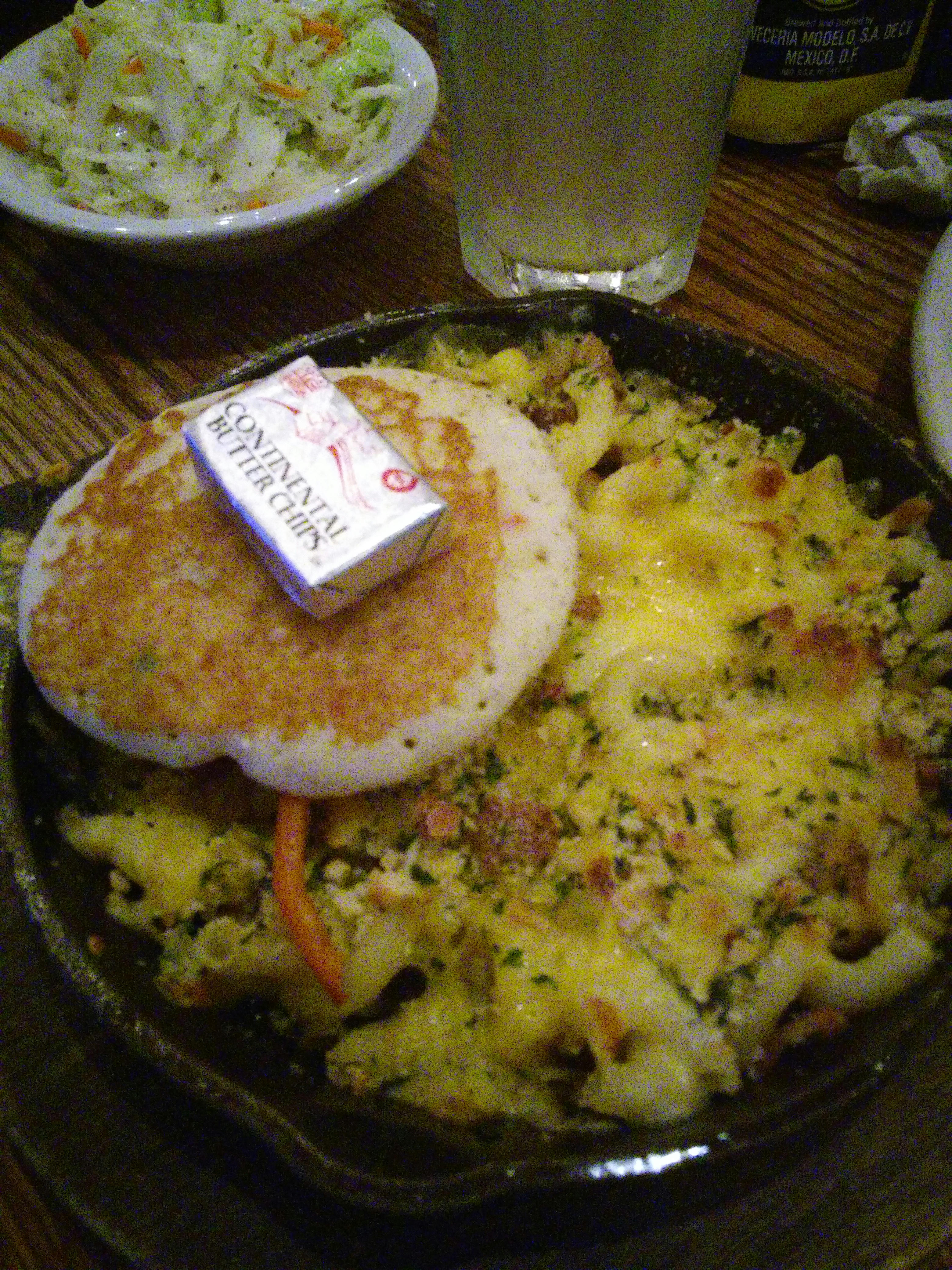 Dinner tonight!
I'm happy for today. it's been really laid back, but has also been really nice. There were new things to do, delicious food to try, and great music to listen to. Our group had some great time together and now it is time to relax for a new day tomorrow. Pharmaceuticalization sounds fun, but I know there is also a lot that comes with it. Also, we will me learning about body image in the context of different perspectives, so that will also be interesting. That's a wrap for tonight. Boa noite!