With about an additional hour or so of sleep today, I found myself feeling better in class. I still woke up at about 6:50 AM, but I still had more time to get back to sleep and rest some more. I wish I would have been able to get that much in the day I did Yoga. I'm sure that would have been marvelous! With that extra bit, though, I got up and showered as part of the routine before heading out to breakfast with the group. This morning I went for the pancakes since I had yet to try them. I topped them with more than a generous amount of berries, like strawberries, blueberries, blackberries, and raspberries (that and topping fruit on my oatmeal is my way to sneak in a side without it technically counting as one). With some good sleep and filling breakfast, I made it to Wyatt with the cohort again. I think I'm near that last phase I referred to earlier where you make the space your new home, although I am beginning to miss my family.
Since classes are so long, I tend to forget what we do in which particular order, but today we essentially prepared ourselves to be more open and knowledge over the matter of stigma on disabilities. It's surprising to see how in depth we can get into the subject, like breaking things down to grasp fundamental concepts that help us understand issues. To scratch the surface, we subconsciously tend to make condescending generalizations over people who we see with a disability, no matter what kind of status or position or title one may have had (or not) prior to injury and disability. We read many different examples from a few articles, which we are yet to continue reading tomorrow. Moreover, we received a wheelchair manual. This is to prepare us for the next two days where our class will be conducting a social experiment to witness and experience first hand what it is like to live "handicapped" and on a wheelchair, both physically and mentally. Personally, I look forward to it. Just like that honeymoon phase, it seems like something new. Being something new, it's something that I find can be interesting to do for 24 hours. Despite that, I am aware of the downsides to it, like the physical endurance, accessibility issues, and people's different behavior. Given that I will do my best to take this seriously, I will be ready for it all for Thursday.

Also in class (after lunch, I believe) we watched a film called Darius Goes West. It revolves the life of Darius, a teenager with Duchenne Muscular Dystrophy who is on a mission to get MTV's Pimp My Ride to re-do his wheelchair, like the show does with other people's cars. He embarks on a three week road trip with a group that soon becomes some of his closest people. He eventually travels to many places, "living life to the fullest," as Darius says. It was a powerful movie that demonstrated what it meant to triumph in the face of disability and the unconditional love that puts aside such a thing like a degenerative disease.
To not go back and forth from class, to lunch, and class again, I'll continue from lunch, to arete, to dinner, better known as our proctor group night out. Lunch was as usual today. After lunch and class, however, we had arete once again. With day 2 on Henna, we learned Indian Henna designs after learning Arabic designs yesterday. We were able to continue on any work we began yesterday. I personally tried to do some new things. I was going for a nature theme, so I made some leaves of different variations. That's quite a task, though. Despite that, I still tried to continue doing some new things. Though it's a meticulous task, I tried to do what I could. Like yesterday, I went from one thing to another. I started at my palm this time and made my way to my fingers, the outside of my palms, and back and forth and all over the place. I ended up making some air, fire, earth, ad water signs, a Yin yang sign, and a bunch of spirals. I also went over yesterday's Henna to make it bolder. This time the color turned our orange, unlike yesterday's brown. The result was still favorable, though. I like it. For a beginner, my enthusiasm and focus helped me get something decent looking. The only price I paid was having to keep it super still for about an hour. No moving fingers. closing my palm, or anything. I just kept still for it to dry.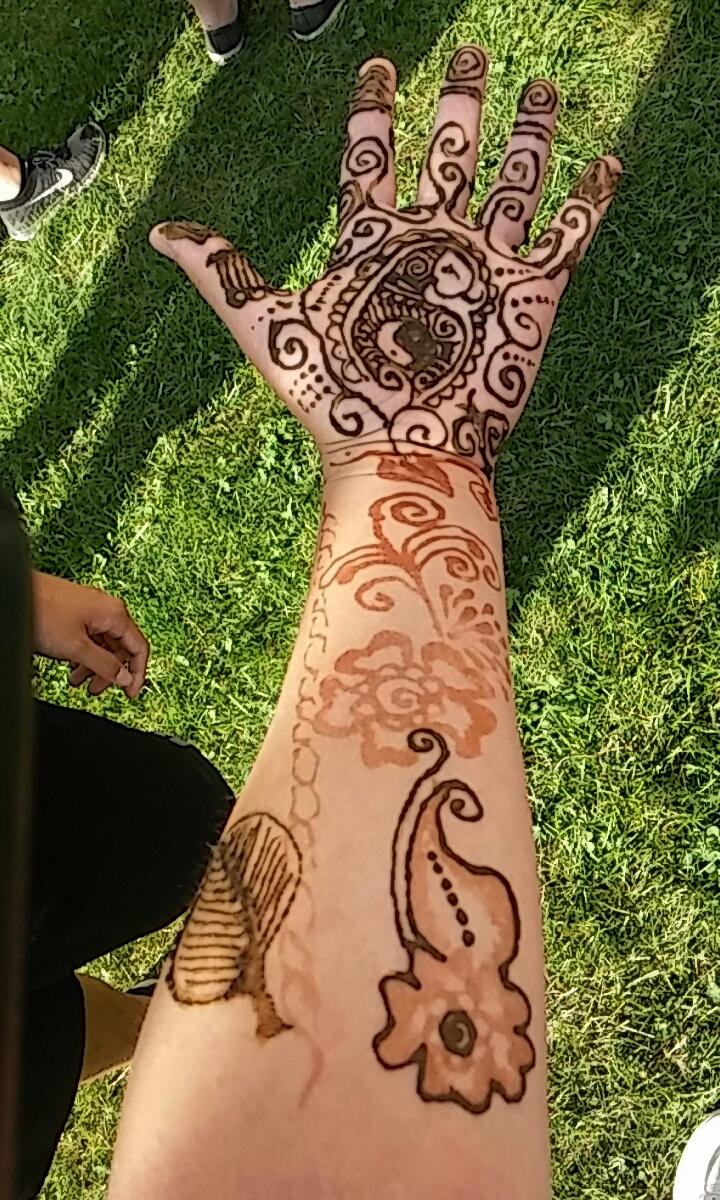 My Henna, continued.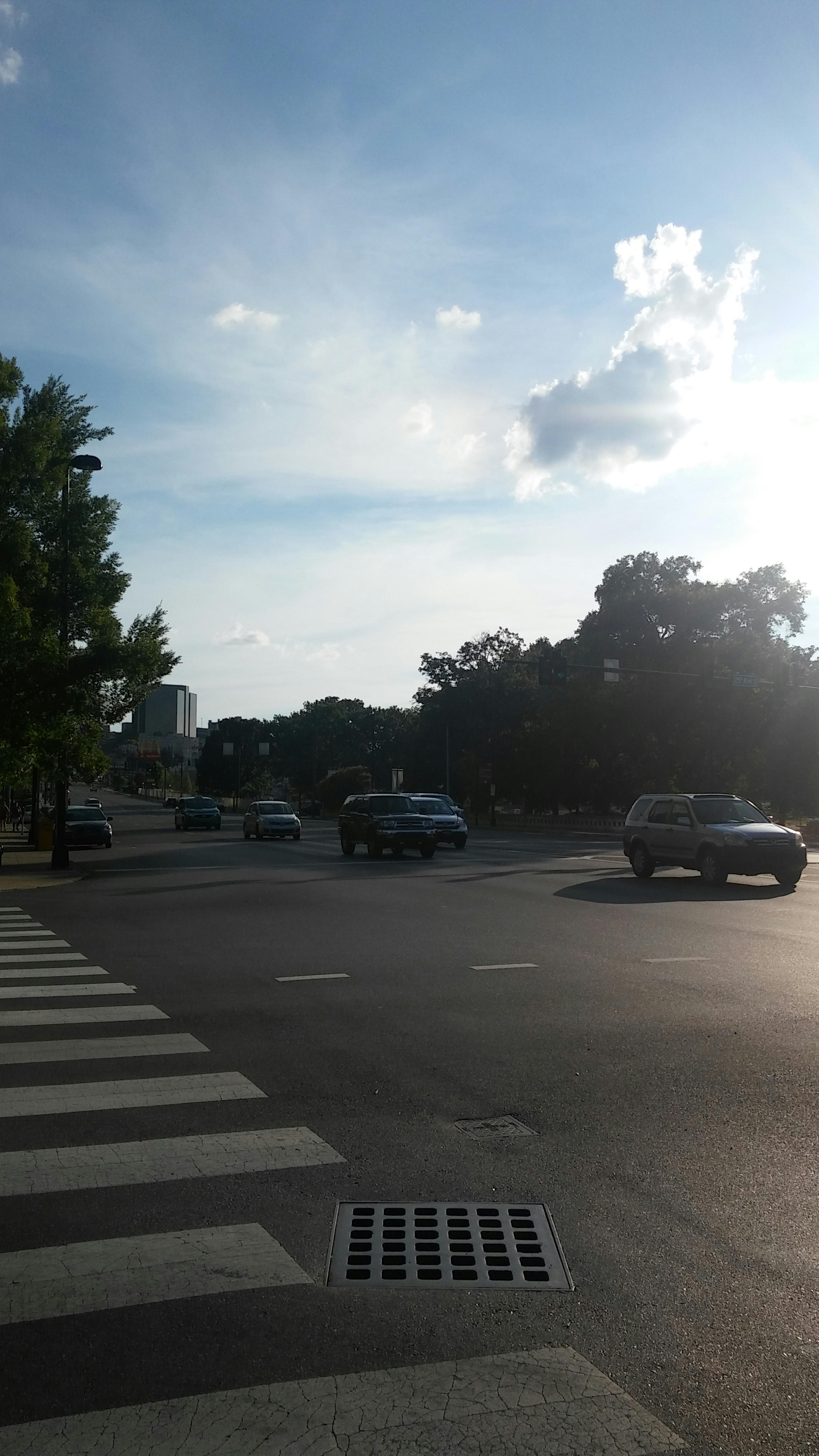 24th Avenue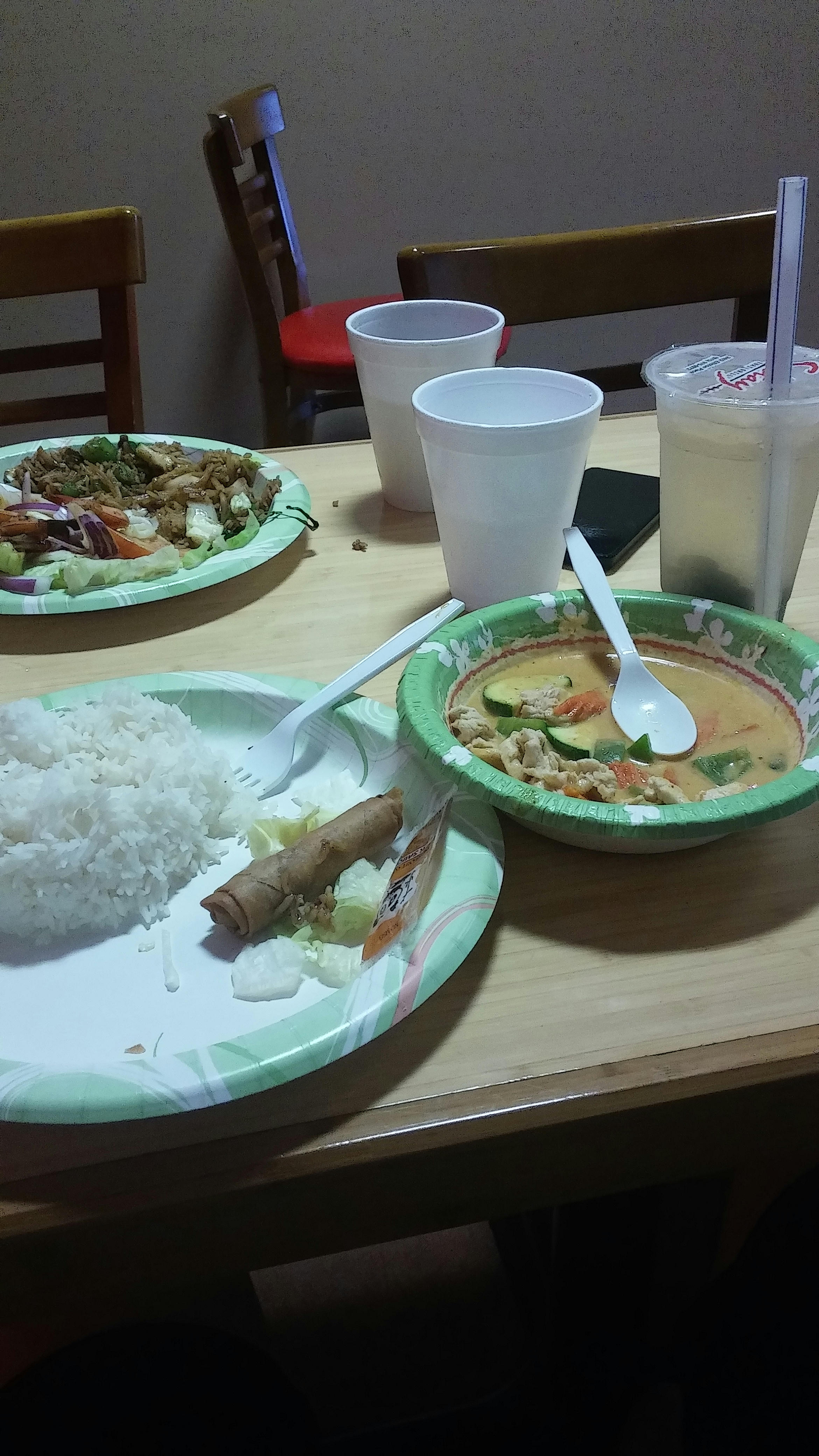 Tonight's dinner! Food was bomb!
After Henna, we signed up for Saturday classes. I was debating over the roller skating, but went with rock climbing. I'd redeem myself from a time I didn't try rock climbing. It's also supposed to be taking place somewhere outside of campus, so that is something to look forward (given that it could be here on campus). We had a prompt period of free time as usual, which proceeded with our proctor group night. Instead of eating in the Commons, we went our- each and every proctor group. Mine and I decided that we'd get some Thai, so we went to a local spot a decent walk away. With my food being last, I had only craved to try everything that was brought out to our table. I ordered the Chicken Curry with White Rice and an Egg Roll with a Lychee Milk tea with Boba. Whoa, that was a mouthful (haha, get it? I keep it moderately cheesy in my blogs). It was great! I had only tried curry one other time, but it was Indian food. Both were great, though it got a bit too sweet for my taste towards the end. Nevertheless, I'm very glad I got to try something I enjoyed.
Our walk back was nice. I was actually feeling like giving my Portuguese another shot and got back on DuoLingo to practice some more. Even before I went on it, I refreshed my memory by saying a couple new phrases from what I had previously learned before VSA. I got to jam to some Latin music with my proctor, who is familiar with the music, and cracked some jokes along the way with some other guys from my proctor group. I am here now at my desk wrapping up this block. Like yesterday, it's not too late, so that means more sleep!!! It's time for bed now. Till tomorrow! Boa noite!