Today my roommate decided to get up an hour early to go to the gym. As a result I didn't feel like I had to wake up when she did, so last night I set out all of my clothes and my supplies for class and slept in for as long as I could. Katherine has a mission to sit at every table in the dining commons by the end of the program, so after I grabbed my food, I began my daily search to find everyone.
Class today just sort of went deeper into the concepts that we discussed yesterday. We went deeper into explanatory models, which (to reiterate) is the set of ideas that an individual uses to interpret a specific illness episode. Patients and their families all can have their pwn explanatory models. It explains "the what, why and how" of the disease. We also discussed the acronym "LEARN!" which is supposed to be the recommended way to treat a patient.
Listen with empathy and curiosity.
Explain your perceptions and understanding of the problem.
Acknowledge your differences and your similarities
Recommend treatment and phrase it as a suggestion.
Negotiate agreement.
There are also some critiques of this system. While the approach might be a means of negotiation, it also might be a means of manipulation since eliciting such information is rather one sided. The medicine prescribed could possibly become a means of control. As a precursor to the two documentaries that we watched, we discussed cultural hegemony. The definition that Monte gave us was "The spontaneous consent given by the great masses of the population to the general direction imposed upon social life by the dominant culture." This was really helpful for context as both documentaries were about Hmong immigrants. The first one was about refugees and their journey to America, while the second was about a family that had moved 17 years before the documentary was filmed, and discussed the assimilation to American culture. Since the way they practice medicine is so different to the biomedecine practiced in the west, but is also an integral part of their culture, learning about the Hmong is really helpful with explaining ethnomedicine.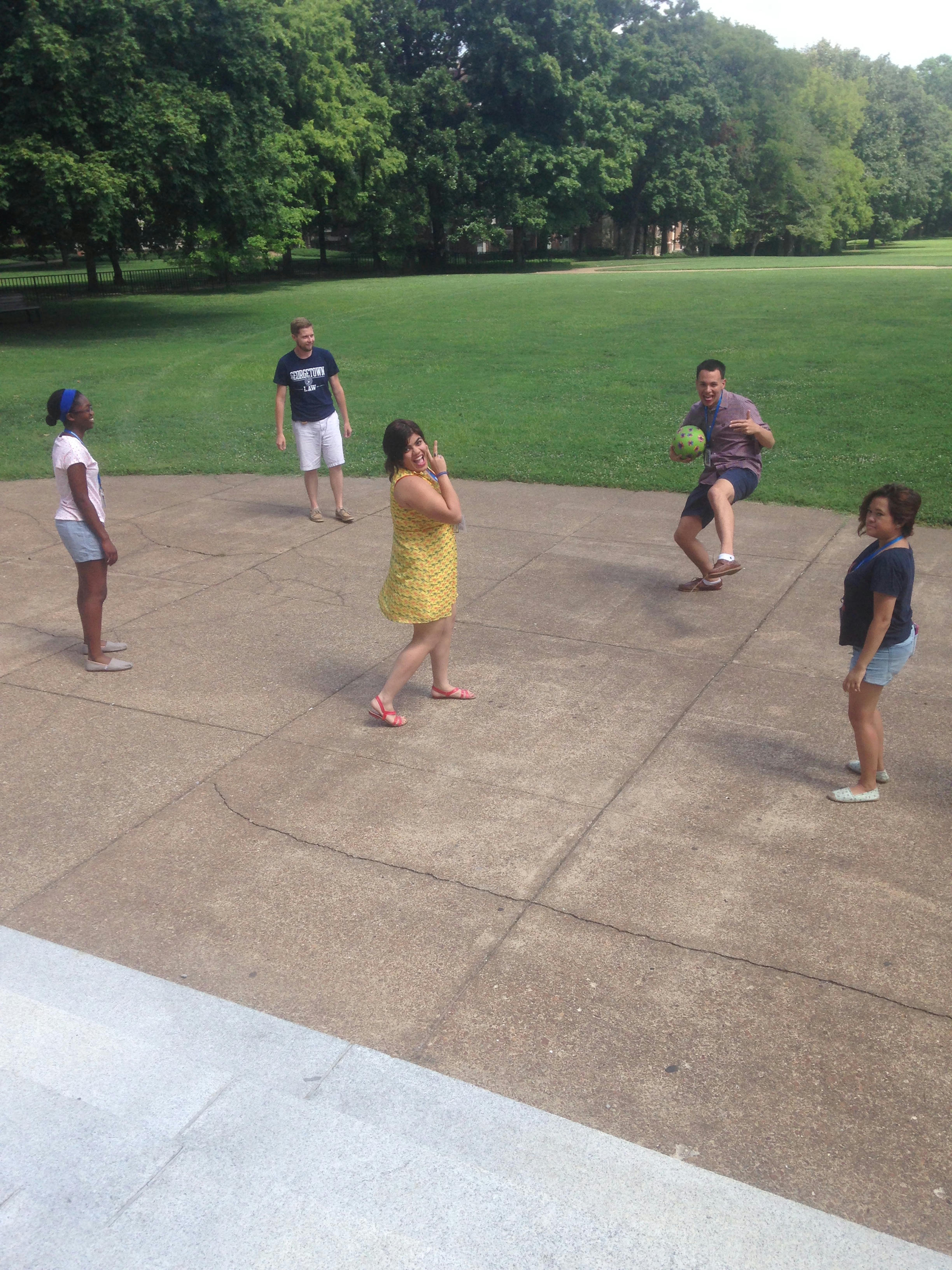 During a break we played four square, which I haven't
played since fourth grade.
The documentaries went into some really personal moments, which I was extremely uncomfortable with. For example, the camera crew was filming while a doctor took someone who was on life support due to a stroke off of it. There were about 15 people in the ICU crying while it happened. and I just felt really upset about witnessing it.
After the movie was over, Zach announced that we were finally going to be able to walk back and forth from classes unaccompanied by an adult, as long as we stayed in groups. While that sort of broke up the tension in the room a little, it didn't completely work. Even when class ended I was still thinking about it.
Right before dinner were the signups for the weekend "art activity" that was to be held. I walked over to the commons immediately after Arete so that I could get my first choice. I managed to get silk scarf dyeing with yoga, so I feel like that would be really relaxing. After dinner we had a SOFT night, but Katherine, Gwennie and I decided to stay in and have a girls night in Katherine's room to blog and read a bit.