We finally experienced our first weekend at VSA. For the most part, it has been chill, though there's been a couple things that went on. This morning we were all able to get an extra hour of sleep since breakfast didn't happen until an hour after at 9 AM. Of course, I got that well needed extra hour in as I lied on the mattress all bamboozled from one of the longest felt weeks I have experienced. I got up at 8 AM end got ready. After that shower, though, I got quite confused. Due to schedules that are quite long and get a bit confusing for me, I was thinking that breakfast with Jenny and the cohort was today. I soon realized that no one was at the Lobby for parents to sign out any students, that everyone was heading to the the Commons, and that we had class right after breakfast. With the crowd I went and had breakfast to re-center myself before I'd find myself more confused.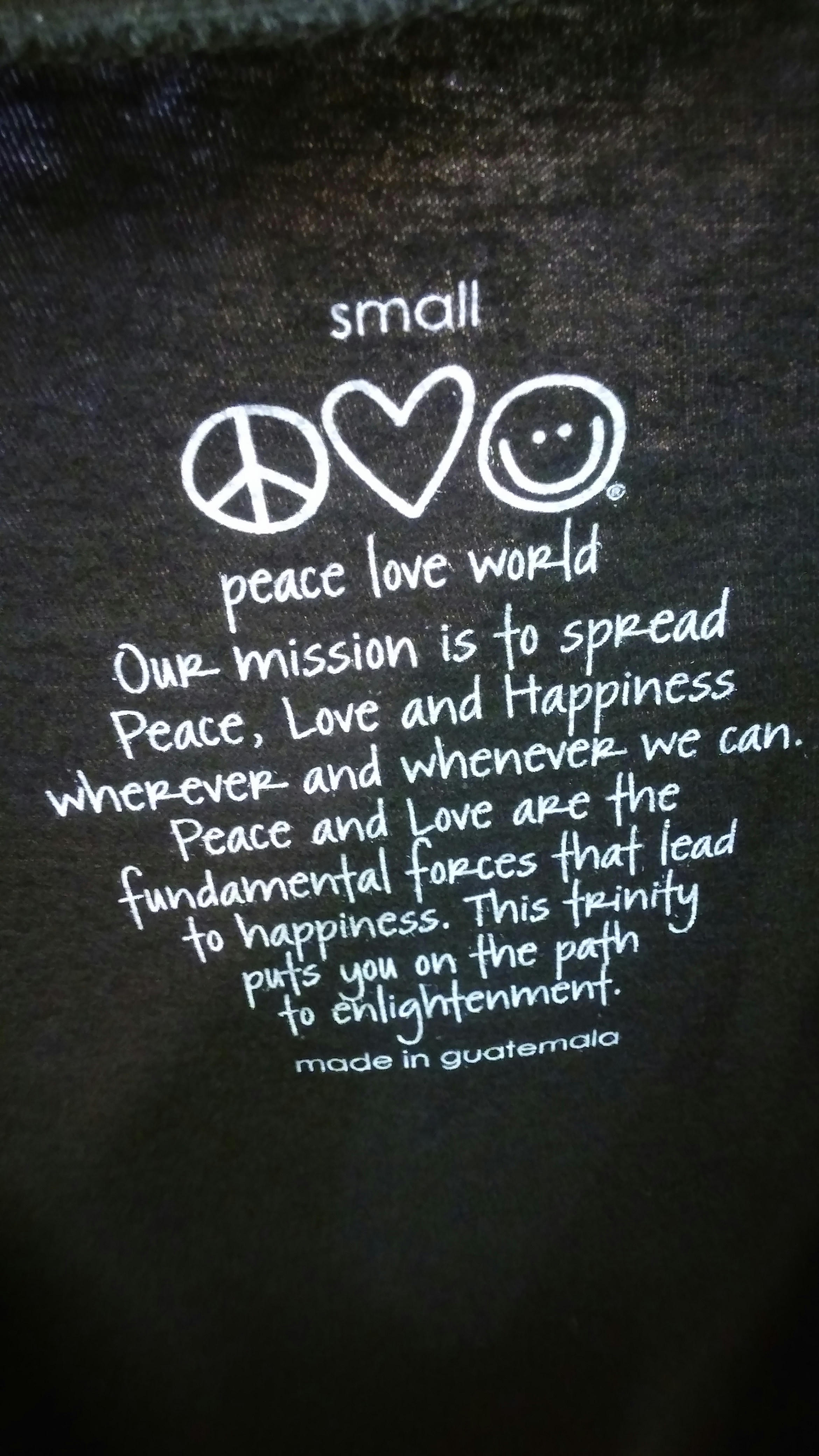 A nice note relevant
to what we saw today in class.
Class today was also supposed to be laid-back. We were going to watch a movie. Fortunately this was a more well known film relating to health and the medical profession. We watched Patch Adams, a movie of a man aspiring to become a doctor who'll make a true, personal, positive impact on patients' lives. In retrospect, it reflected what I think a doctor should be in terms of how genuine and admirable Path was in trying to improve the health and quality of life for patients. Though it was a tough road, it led to great things. Unlike yesterday, this film was another triumphant story of a doctor who wanted to make a difference and was able to live outside the box to get to where he wanted. At some points, the film, a true story, even delivered poignant moments. Overall, it's one of those films that gives you a more inspirational outlook on being a doctor.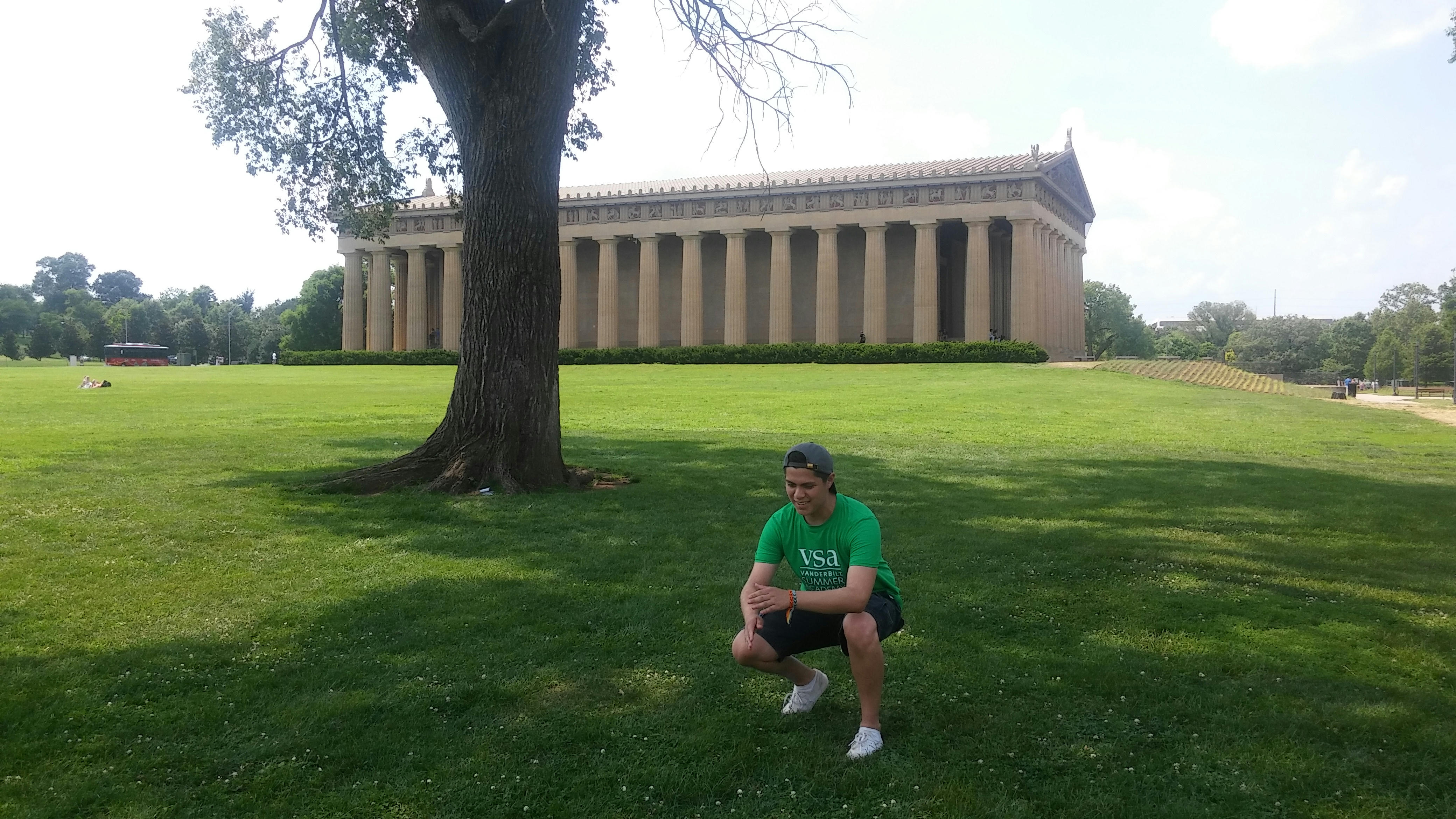 A third visit to the Parthenon
Right after, our class went out on an expedition out to Centennial Park. Our first stop was at the bookstore, where most of the other students got a chance to check Vandy things out. Next, we stopped to Centennial Park. Because I had already seen the Parthenon with the cohort, I decided I would just hang out with some of my classmates and throw some frisbee. Afterwards, we had the longest and hottest walk back to Vandy in the risen humidity of today. We got there with about 2 hours left for free time, or a SOFT afternoon. I initially planned to do some laundry, but because we got there slightly after others and the laundry room was fully occupied, I spent my time just hanging out in my dorm for some "me" time. I ended up splitting my time with intervals of me distracting myself by browsing on social media and trying to begin tonight's blog too. After those 2 or so hours flew by, it was time to get ready for our field trip to the baseball game.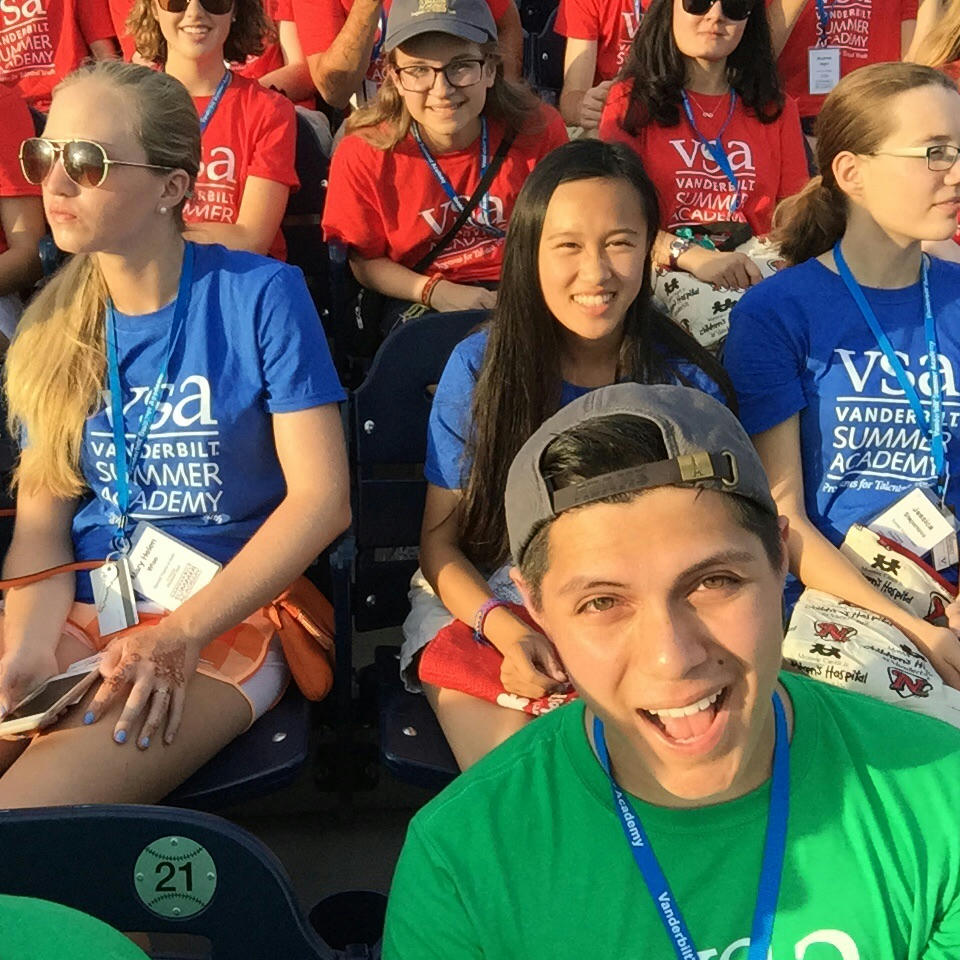 We boarded the school buses to the game. Our seats were just off of the third base side of the field. With the sun high and bright, we squinted for a while as we tried to keep an eye on the game itself. As a result, most of the game went back and forth from staying put on the excitement of the game, to eating funnel cake, and taking pictures of our VSA group. Given that I had only gone to a baseball game sometime when I was in elementary school, it was a nice environment to be in, with the constant cheers and zeal from the crowds. Although the weather wasn't the most favorable thing in the world today, especially after already experiencing a very hot and tiring walk to and back from centennial Park, the group and I made it work out just fine. We had an evening/night well spent at the ball game.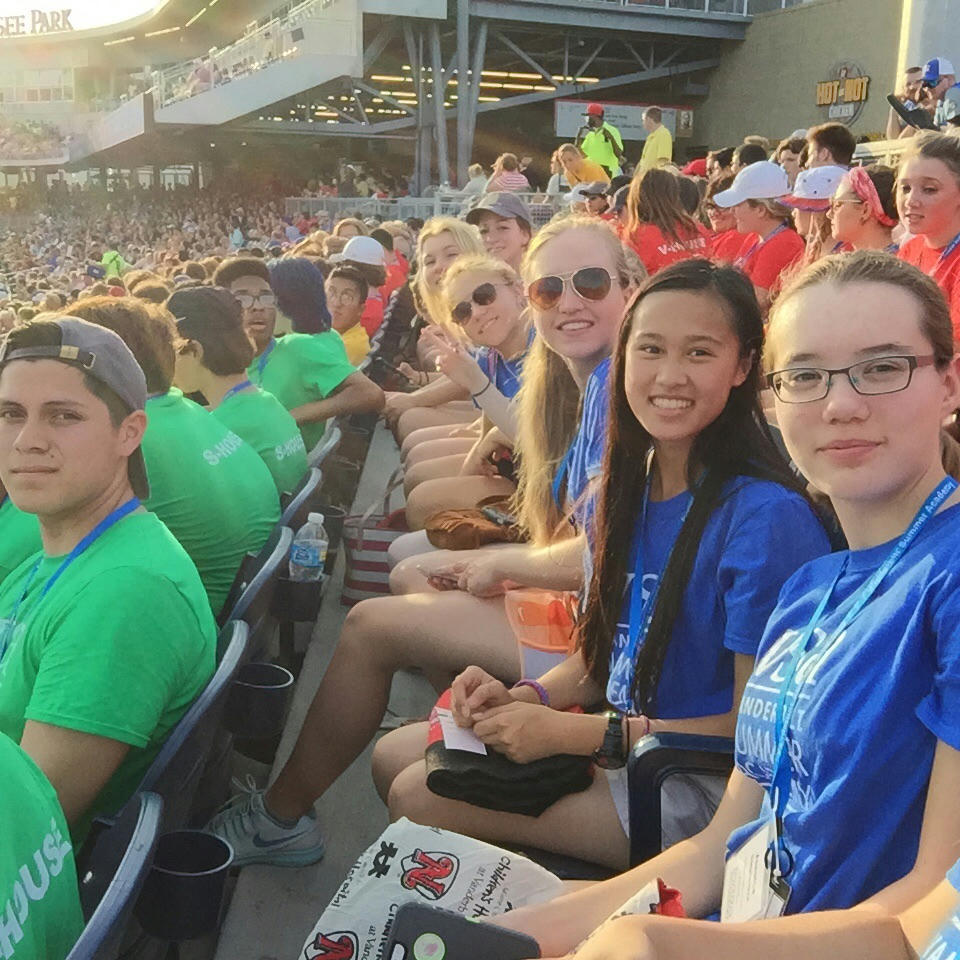 Yay 'cause we're at the game!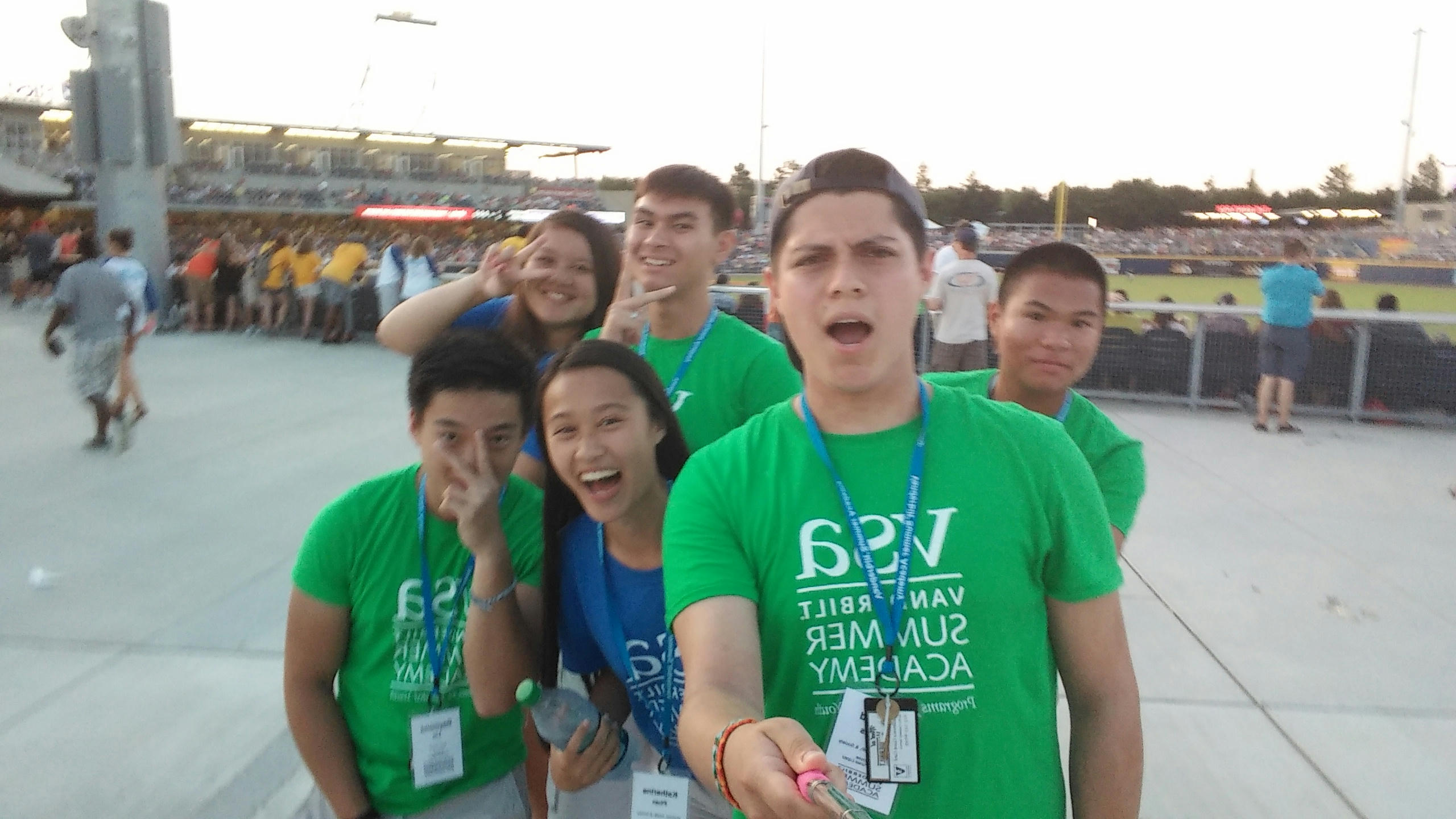 Our VSA group!
Tomorrow should be a great day. This time I will know that is is actually Sunday and that it will be our brunch date with Jenny. After spending a week away from her, it feels really nice that we're going to be able to hang out some time again before we continue on a second week at VSA. With one last day before we start that week, it'll be the perfect time to get our other errands done like laundry, reading, other chores, brunch dates, free time, and some artsy activities (we're having an artsy day tomorrow where we will have activities). That said, I'll get a headstart on some sleep for tomorrow's day. The only thing going fast at VSA is our weekend... !!!!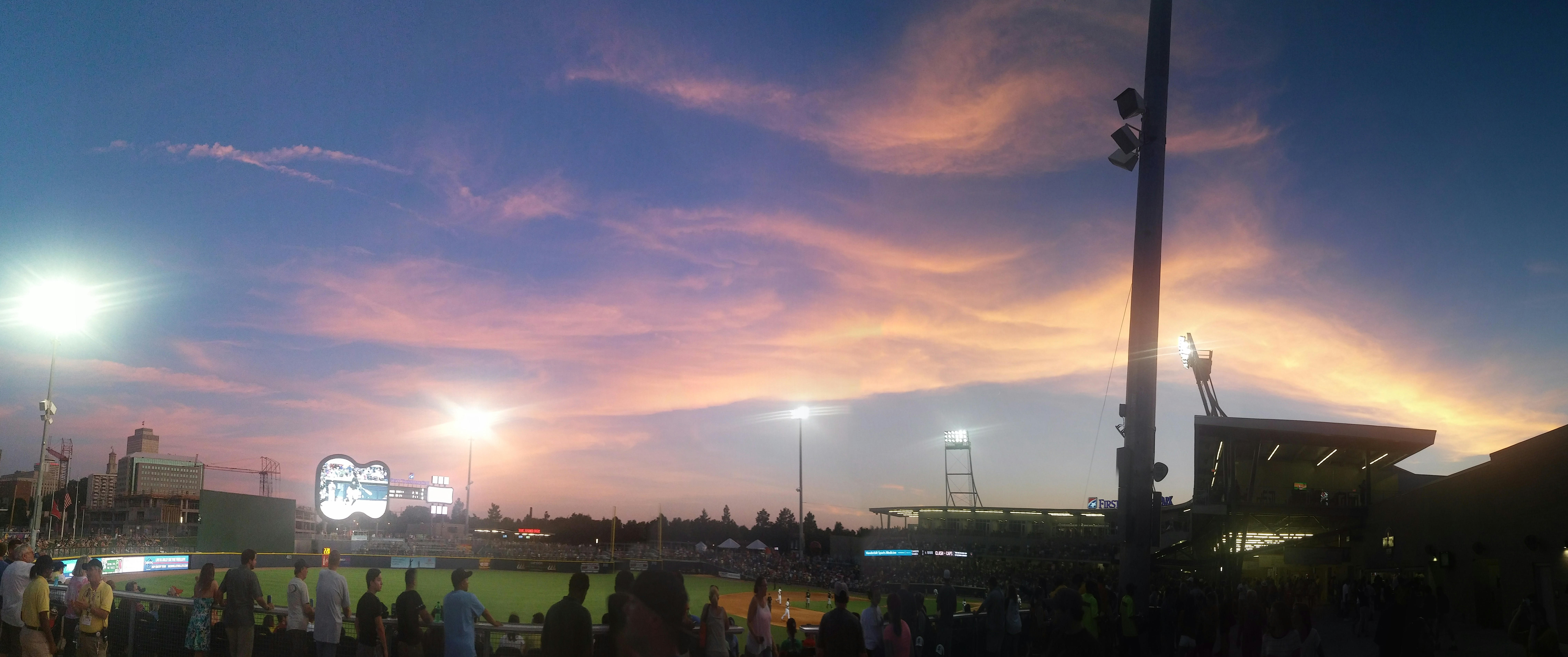 The view of the sky was the icing to the cake tonight