Today is our final day before we go back at it with our full-on routine. As a result, we have the chance to make today as productive and as best as possible. Although it's only Sunday, we still have so much to do possibly do here. From eating out, to blogging, to doing laundry, having free time, napping, and doing today's artsy class.

For some reason, I've been getting s tendency to naturally wake up at around 6:50 AM since arriving at Vanderbilt. Maybe because we've had to get up early the first days of this trip, but I'm more than sure it's because light inevitably creeps in through the window right in front of my bed. Whatever the case, I woke up more than relieved that I had about another hour before it was 8 AM. Somehow, that time felt like 5 minutes and before I knew it I was out the shower and going down to meet the cohort and JENNY for a brunch this morning.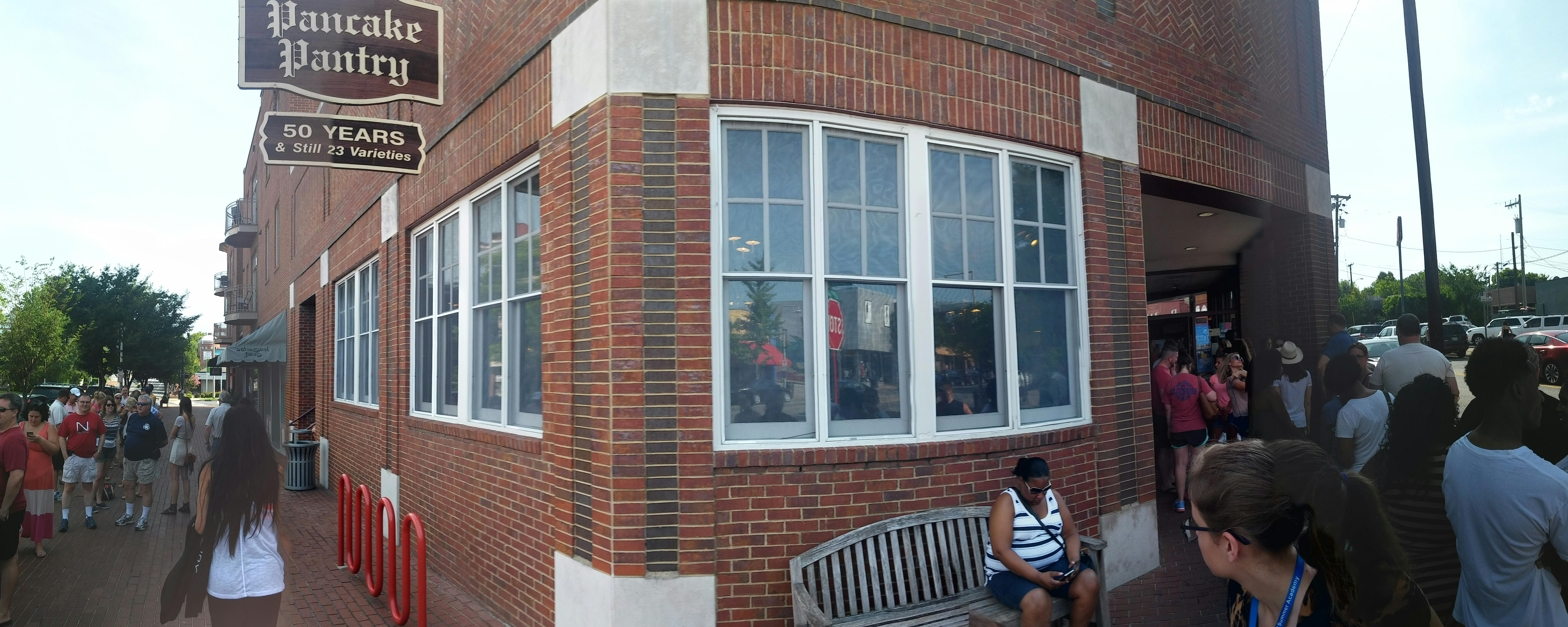 Here's that line...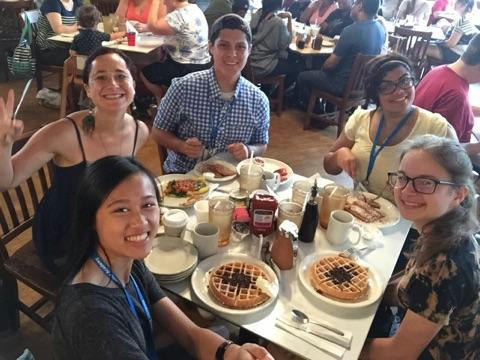 I wore my fancier blue, checkered button down for the occasion with the hot sun making me wish I had worn something lighter on the way to brunch. After a few blocks we made it around to the Pancake Pantry. I don't know why or how, but it doesn't cease to surprise me how every time we have gone to popular restaurants with infamous long lines, we somehow arrive right before the long really gets long. With about 20 people arriving within the next 5 minutes of waiting, we were all once again very thrilled at how much of a trend this has been for us. As we finally made our way in, we had looked at the extensive list of pancake options, I decided I'd get some eggs, bacon, and the sweet potato pancakes as well as a great cup of hot chocolate with marshmallows. The conversation involved topics like what our classes were like, but mostly just casual conversation among ourselves. Shortly after a great taste of what Pancake Pantry has to offer, we explored some more of Hillsboro Village at some shops.
Since Jenny still has access to those convenient shuttles from the hotel, she called one up and we were dropped off at Hank. There, we said our goodbyes in hopes that next time we'd see each other, we'd be able to go to another great spot to hang out again. Once in the dorms, we immediately headed out to lunch. Given that we had just finished a filling brunch with Jenny, the cohort didn't really get any lunch. I did, however get one of the Chocolate Cheesecake desserts since it was an exception. After that, all of us created new groups for the artsy class we had signed up for. Our Yoga and scarf tye-dying group got a yoga mat and blanket and walked over to an old building-turned art studio. To start off, we were introduced to the scarf activity where we sat in tables with plates of rubber bands and beads. With scarves of pure silk handed to us, we were taught a couple techniques to make interesting designs. It looked easy, but once at it, it was a complete mess. Our table just went at it with the different techniques we used on our scarves. We even had to get more rubber bands for our table twice. Nevertheless, it was a fun experience messing around tying rubber bands all over the place until we were content with the small, crazy looking little piece of cloth we ended up with. We pre-soaked them in some water, inundated them in buckets of different color dye, and soaked them again to get the excess ink off. After that and quite a long time getting the rubber bands off, I hung both my scarves to dry and got my mat out for some yoga.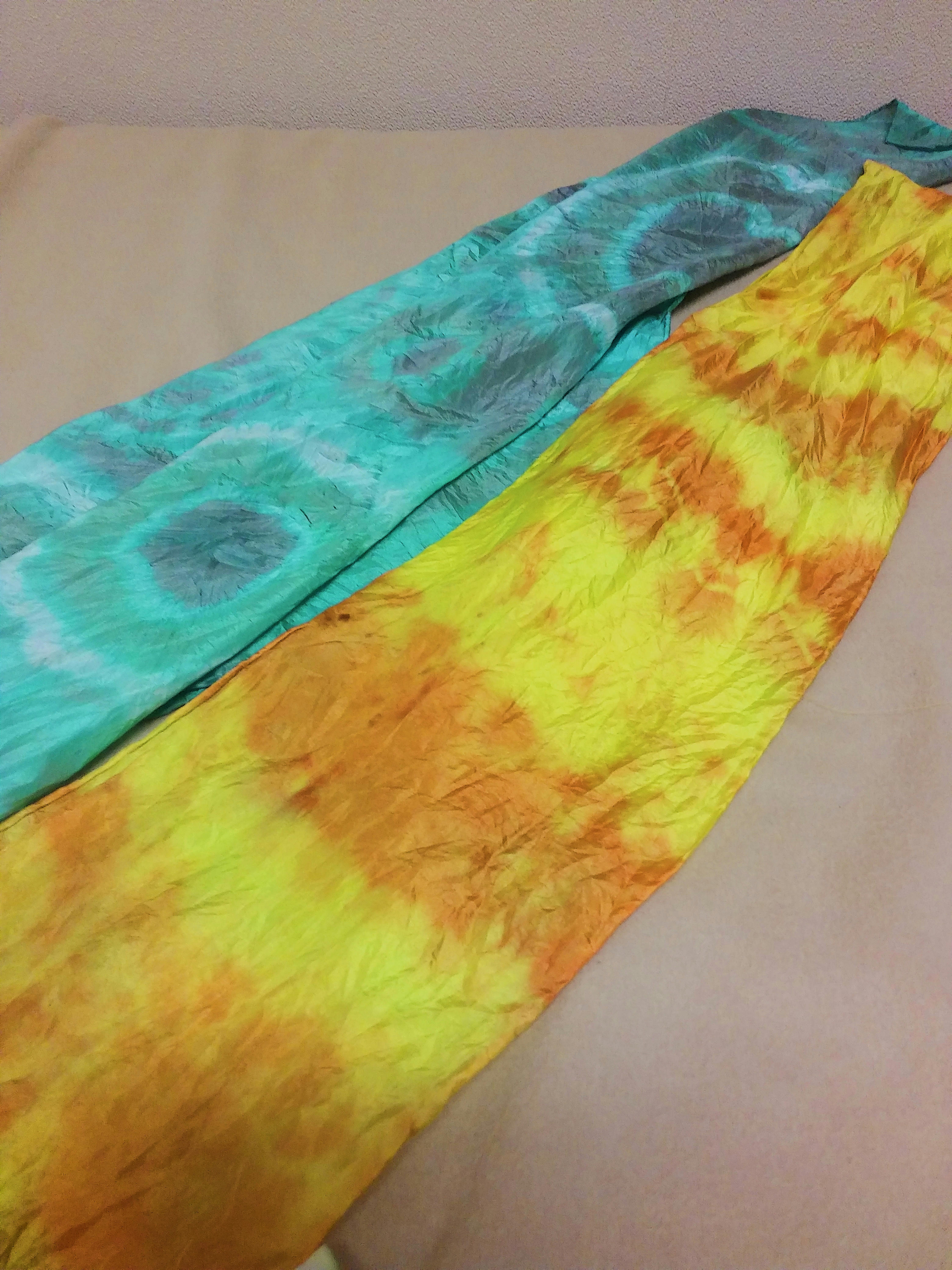 Not bad for my first try at this scarf dying.
I've never done any yoga before, let alone that relaxing kind with a lot of deep breaths. Our instructor guided us along the way through different moves and made sure we were all doing what we could, without worrying about what others were doing. It was all focused on ourselves. At first I was feeling a bit impatient since I never really tried taking really long and slow breaths, but about halfway through I began feeling very relaxed and sleepy. Some people in the class even began to nap. Nevertheless, I tried to get the most of it and did. I'm hoping I fall asleep real quick and soundly so that I can be well rested for tomorrow, like the instructor said most people did after taking his class.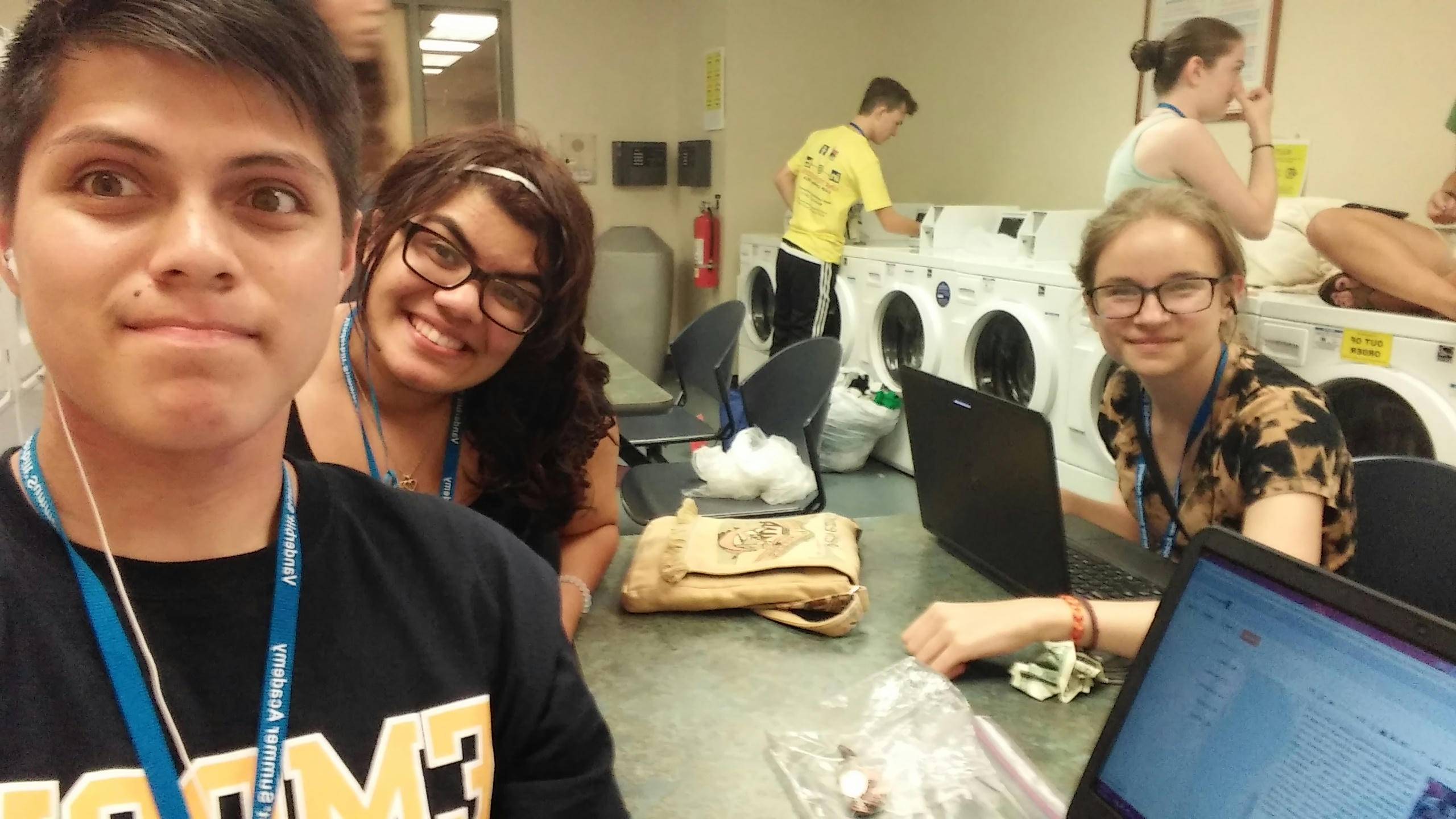 Back at Hank, we had some time for laundry. Immediately after getting back, I got to the basement where I found out that all the machines were occupied. I decided I'd go back up to my floor to get my laptop and spend some time blogging there to start off. Eventually, there was space and I got my things in the washer and stayed with Hummd and Gwennie, who were also doing laundry. Just before we all headed out for lunch at 6 PM, I was able to get both my loads of clothes in to dry. At lunch, we had some interesting conversations mostly revolving language. I finally got to sneak in some Portuguese, so that I can practice it, but also got to learn some more sign language from Katherine. After that pause from laundry, I got back and put away and folded all my clothes to finish. After another long while just hanging around and finishing up with that, we had our proctor meeting where we talked about some important news regarding VSA protocols and tomorrow's agenda. We finished off with some news that we'd have a proctor group night in the near future where we'll get a chance to eat and go off campus and also a zealous, (very) loud, proctor group hug (since my proctor group is just cool like that).
That pretty much sums up today. Tomorrow we just get to start another full-on week of lots of activities and class. We also have that wheelchair social experiment that my class will be undergoing. As fast as the week can go, I still hope the days are long and full of great things, since I want to make the best and most of the couple of weeks left here! I can't believe how only about a week ago I was blogging about all I looked for today and here I am immersed in the program and Nashville, almost halfway through this entire program already! It's been a great time so far and I keep looking forward to some more great times and memories to make.