Where do I begin with the last two days of VSA? They seem like they were about a week ago with such long days that we had there in the South, yet it feels like they were memories made just yesterday. It's now Saturday and I'm coming to terms with the end of this experience, but the memories still stay. They always will.
On Thursday morning I woke up late. I was conscious of how it was the last day for class, but inside the debate for sleep overcame having time 'till breakfast time. After some downtime resting snooze after snooze, I made it through the morning for just about the final time: picking up my lanyard, towel, shampoo and such, slipping into my sandals, and making a sluggish drag down the hallway to shower. At 8 AM, I was ready for breakfast one last time as a entire group (ILC cohort, Corry, and our friends from Philly).
That Thursday I was finally able to go to the organ recital at the Vanderbilt Medical Center, a short walking distance from Wyatt. Today we went as the second half of class with our TA, Zach. There we met the Med School 101 class and has had a medical student present to us some information about the lung and abnormalities that comes from disease. Soon after, two more medical students came to visit us and sat in while we began to examine real organs. In the middle of our circle, we took turns looking at two separate lungs, a liver, and the most graphic of them all, a severed foot. Out of respect, we were not able to take pictures, but the image is still set in my mind. It was one of the grossest things I have had the chance of doing, but it was well worth it. It made me wonder and wish I would have taken that class, given that they fully immerse you in so many things that med students go through. After examining the organs we were able to speak with the medical students about their experience. I was glad to know that it isn't as bad as Doctors' Diaries, which was discouraging, but rather the students made it seemed like becoming and life as a doctor is rather a tough, but feasible job. Whatever the case, I'll give myself more time for deciding what I will pursue in the future.
This is the first time I stepped into Vanderbilt Medical School territory...!
Monte and me.
Left to right back row: Alijah, Griffin, Ryan, Hunter, Tariq, Clay, Josh, Corry, me
Left to right front row: Wilson and Noah
Back in Wyatt with the entire class, we wrapped up the rest of the morning with evaluations for the class followed by a final ceremony up Wyatt in the Rotunda. There, Dr. Dunn, Rosie, Rachel, and the head of each house recited their speeches to their respective house and everyone in general. After 3 weeks competing for the House Cup, I was extremely surprised that S House (my house) won!!! We followed that by our final, very fervent, house cheers and a 10-15 minute slideshow of everyone's time at VSA. With all of that, we were dismissed into the final free time of the summer. Imagine that. It hits me as I write. That was like hearing VSA say, "Go have fun before time runs out." Nevertheless, I finished packing with Lee and Raymond hanging out with me in my room. I changed for the dance too. This was our last night together. We were having a Masquerade. We headed out in proctor groups to the Rotunda once again and made the most of the night. This was honestly one of the highlights. It was just the entire group there. We had the cohort and our friends from Philly, Angel, and others together just dancing unashamedly for our last moments together, sweating tears in disguise before we would be prone to inevitably shed them in cries of distress. For the rest of the night, we began creating the final memories of our time in Vanderbilt.
On our way back, we tidied up the Rotunda and made our way down the stairs. On our way to Hank, the sprinklers for the lawn were on and of course, I couldn't just pass by it without enjoying them, so with Lee, we ran back and forth for just about 4 times. On the last one, I got splashed in the face and I can still remember how it felt like one of those commercials that splash water in the camera (it was actually so perfect, like such a perfect commercial moment, but in actual real life, haha). To end the night, we had out final proctor meeting and it was one of the most emotional moments I've experienced in these past 3 weeks. We went around sharing our feelings about our experiences for the final time, some of us bursting in emotion, expressing our gratitude and sorrow at the same time. We also gathered around a table and passed papers with our name in the middle, writing notes for everyone on theirs. We also got a very mournful and touching letter from our proctor, Tonny. I spent some more time with Ryan, Noah, Alijah, and Wilson, talking about our times there and then about society. With no regrets, I do think it would have been nice and it would have added more to this experience if I did let myself open up more to my group aside from my own group of friends. Nevertheless, I savored the final moments and some more hang out time with Raymond and Lee before heading off to sleep.
That night I happened to wake up at 4 AM, tired and hungry, but went back to sleep before I woke up again at 6 AM to say my saddest goodbyes of the day. Given that it was pretty early and without expecting it, I became very emotional when I had to say my goodbyes to Kelly, Raymond, and Lee. Katherine and I gave each other our final hugs and waved out saddest goodbyes as their shuttle drove them away to the airport. For the next 6 hours or so, I was a hot mess, shedding emotions left and right every so often. That morning, breakfast was one of the saddest moments. I was the first at the table first of all, but also I knew it would stay incomplete without three of the group. Especially when one of our own from our proctor group left, it became surreal. In the end, Jenny got to Hank and it was my time to give my farewells to my floor and I met down in the lobby with my cohort and Corry. Being the great person and proctor Tonny is, he came down to say goodbye one last time before we too headed off.
We had brunch at the Lowe's hotel restaurant, where I so coincidentally happened to see Ryan from my proctor group again. It was our last time as a cohort where we shared some sandwiches and pizza among us for one final time. Afterwards, it was time for the airport. We were disappointed to learn that our flight was cancelled, so we stayed for a while and got ourselves either smoothies or coffee and hung out with Jessica, one of our friends who was also waiting for her flight. We had a long 4 hour flight, but we made it safely to Oakland. We picked up our luggage and went all the way to the D4 side of the parking lot, where our shuttle people told us to go. Apparently the shuttle driver was at G4, but we asked he'd come to the "D4," especially since it was a shorter drive for him than it was a walk for us with our luggage.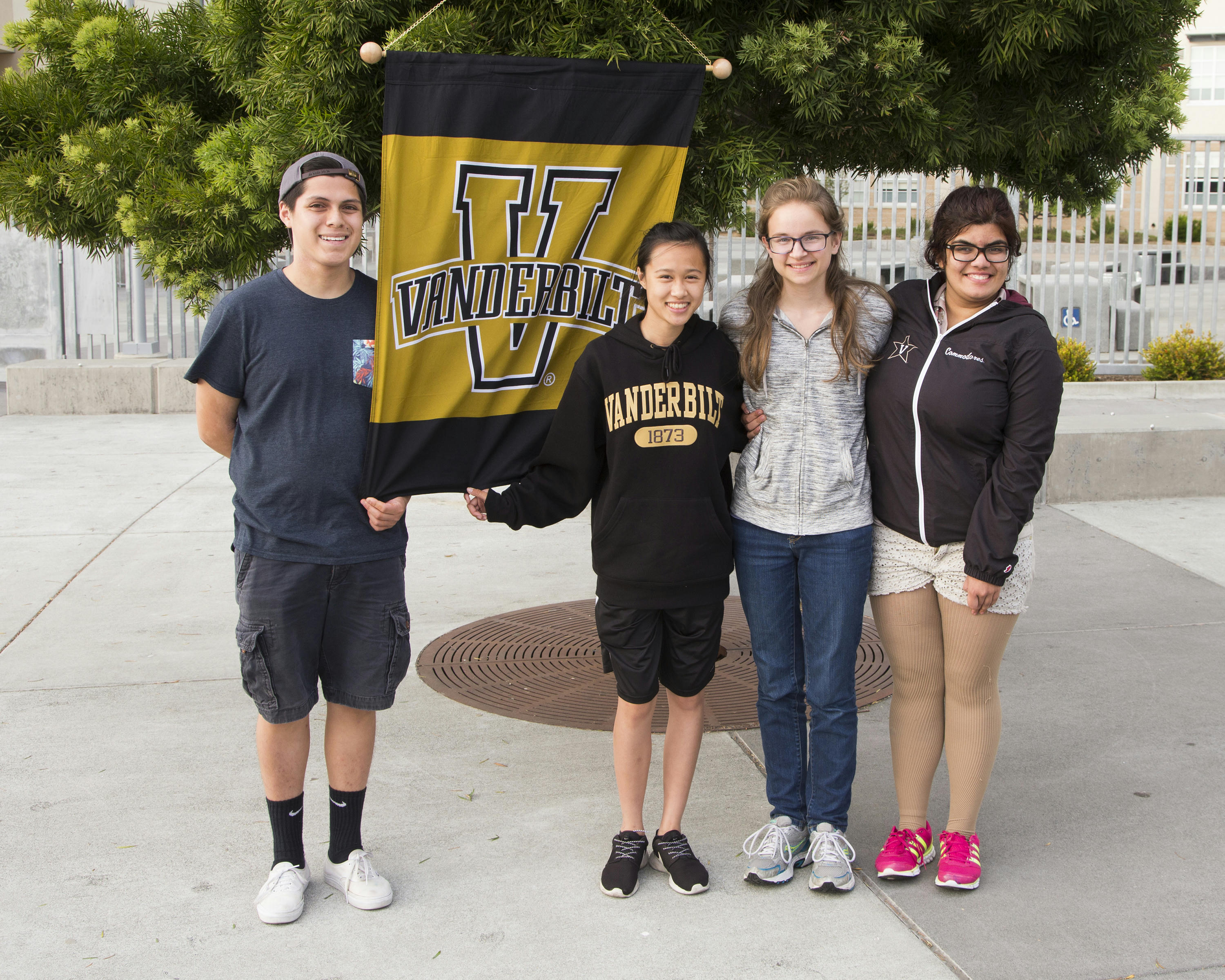 No longer Vanderbilt Victims,
rather, now we are Vanderbilt Victors...
Once at ECHS, we saw parents there. The girls went straight to them, then we all took a final cohort picture and stayed together for a while, while their kind selves waited for mine to come (I called really late since my phone had died earlier). At last, all of our parents came and our we said our farewells as a cohort. We were a great bunch and I wouldn't have had it any other way. From the interview to the tutorials, to the meet and greet brunch, and our trip as a whole, we made the memories I longed to make and had experiences that made lifetime memories.

At home, I was welcomed by a homecoming by my sisters, brother, nephews and nieces, balloons, and lots of cake. I settled in real quick once again and had some more downtime before I settled in my home sweet home for the night. It's surreal that just yesterday I was making my distressed goodbyes and now I am back home, settled in as though nothing happened. It's crazy what has happened these past few weeks, how they're in the past, and how it all passed up on us so fast, but it's the memories, the experience, the friendships, and the love that stays with us, and will stay with us, for as long as we remember.